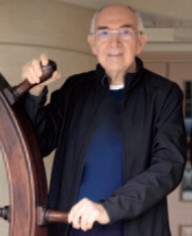 Rear Admiral Alfredo Graham, Peruvian Navy, passed away unexpectedly at age 73 on 31 May 2020.
Alfie was born on 01 July 1946, in Lima, Peru. The oldest of five children, he was the beloved son of Jeronimo and Yolanda.
He graduated from Leoncio Prado Military Academy and entered the Peruvian Naval School on 17 February 1965. In June 1966, he continued his studies at the U.S. Naval Academy, where he was a member of the Eighth Company. Alfredo graduated with the Class of 1970and was commissioned as an ensign in the Peruvian Navy.
In November 1970, he married Carmen Paredes and within a few years had two daughters, Sally and Patricia.
Alfredo was classified as a Surface Warrior in 1980. He was selected as part of the crew to oversee in Genoa (Italy) the construction of the four LUPO-type frigates.
In 1979, he returned to Peru aboard the CARVAJAL. During that period, he became head of the Weapons Department. Early in 1982 until 1983, he was sent back to Italy as part of as part of the Weapons team. In 1984, he was promoted to Commander.
Back in Peru, his first destination was GUISE. He was later part of the crew of different missile frigates such as CARBAJAL, where he was part of the ship's first crew, and MONTERO, where he was second commander and later commander of MARIATEGUI.
In professional maturity, he held important positions, such as commander of the Command of First Naval Zone (1996) and chief of staff of the General Command of Naval Operations (1998). He later served as head of Navy Education and Training (1999), as well as being appointed as naval attaché to the embassy of Peru in the United Kingdom (2000), positions in which he performed inspired by the purest naval traditions, characterized by always being a good leader and an exceptional professional.
With retirement, after 31 years of service, as a Navy Officer, came a sea change. The admiral exchanged his uniform for university professor clothes. He taught several years at CENTRUM business school and then became director of CENTRUM-Online, the first online MBA program in Peru.
Alfredo is survived by his wife, Carmen, daughter Sally, and grandson, Fabrizio, who will remember him dearly.
Alfredo was interred in Parque del Recuerdo in Lurin, Lima.
Kindly consider a donation to Children of Lima (www.childrenoflima.org) or the charitable organization of your choice.
Updated: August 06, 2020
Curator: Ed Moore