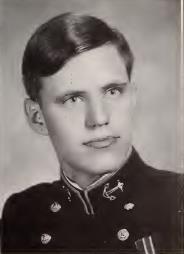 Robert John Bailey was known as "Beetle" to his USNA '70 classmates. He reported to Naval Flight Training in September 1970 and earned his aviator wings in March 1972 at Beeville, TX. He spent that summer with a number of classmates in Corpus-Christi, flying ROTC students in the T-34 trainer. This was followed by a tour as a flight instructor at Pensacola, FL. He then served as the Assistant CIC Officer on the USS Franklin D. Roosevelt (CVA-42) where he learned how to read a radar cope, drive a big ship and sleep while standing up. He resigned hi regular commission and joined the Naval Reserve in 1976.
His civilian career took him from Patuxent River to San Diego, Orlando and Atlanta while he worked for large aerospace firms on programs that included the Surface Effect Ship, Vertical Launch System, AH-64 Apache and the S-3 Viking. He eventually accepted a position with the Naval Air Systems Command Headquarters in Crystal City, VA, where he held a variety of positions in the Engineering Department.
In 1999, he helped form a new group dedicated to interoperability. He subsequently helped stand up the new Chief Engineer's Office under the Assistant Secretary of the Navy in 2000. He retired from that position in September 2002.
He was married to Crystal Guest of Jacksonville, FL for 35 years. They raised a full house of three girls and twin boys. He resided in Atlanta following retirement and migrated back to central Florida in 2006. He was active in his church and volunteered for a number of organizations to include the Boy Scouts and the American Cancer Society. He also supported several USNA '70 reunions while he worked in Crystal City.
"Beetle" departed this earth on 27 June 2014. He is survived by his wife and 5 children.
Updated: October 27, 2018
Curator: Ed Moore