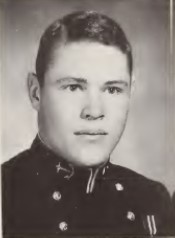 Charles Marmon Frary of Vancouver, WA, passed away on 7 September 2020, after several years of declining health due to pulmonary rheumatoid arthritis. He was 72 years old.
Chuck was born on 30 June 1948 in Riverside, CA, to Herbert Floyd Frary, Jr. and Louise Edith Marmon. He moved around as a kid, living in several cities, as his father was in the military. He ended up graduating from Joel E. Ferris High School in Spokane, WA. He then received a Secretary of the Navy appointment to the Naval Academy, where he was a member of the 22nd Company. Former classmates report that he was a good athlete, participating in several intramural sports and was known by the nicknames, "Marmaduke" and "Wally".
After graduation in June 1970, he married his high school sweetheart, Jill Marie Beernink. They had two children Tricia and Gregory. Chuck spent two tours in Vietnam before being honorably discharged from the Navy. His decorations include the Combat Action Ribbon and Navy Commendation Medal.
He ended up living back on the West Coast the remainder of his life, having other loves and several strong friendships. He lived in Seattle, Wenatchee and ultimately Vancouver, WA. He loved the Pacific Coast, the nature, wildlife, the cool air and the lack of humidity that had always bothered him on the East Coast. He worked in the paper industry for several companies, Zellerbach, Meade, International Paper and Xepedex, working his way up and making many friends along the way. He loved to cook, fish, watch baseball and football (especially watching Navy beat Army), go on road trips and reflect on history.
Chuck will be missed by many. He was preceded in death by his parents and stepfather, Melvin Potts. He is survived by his children, Tricia Frary Kunst and Gregory Michael Frary, his brother Timothy Jon Frary of Portland, OR; and five beautiful grandchildren, Maddalyn Marie Kunst, Preston Reese Kunst, and Gavin Charles Kunst of Davidsonvile, MD, and William Michael Frary and Samantha Catherine Frary of Arnold, MD.
Due to the COVID-19 pandemic, no memorial service will happen at this time. His ashes will remain with his children until a gathering can be planned, in hopes of putting his ashes to rest at the Naval Academy Columbarium.
Updated: December 18, 2020
Curator: Ed Moore