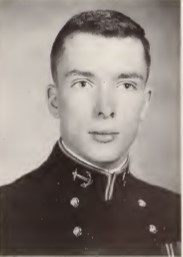 Dale Cooper "Harry" Harris entered the Naval Academy in 1966 from Norfolk, VA where his mother worked for the Virginia State Ports Authority. An accomplished artist, Harry spent many Annapolis hours at the drawing board, producing items ranging from Army posters to company crests.
He earned his wings of gold 1n 1972 and was assigned to the Naval Air Station Glynco where he flew A-4s as bogies to train RIOs and Bombardier/Navigators (BJNs). His collateral duty was the Officer's Club Manager, where his experience with remodeling the club led him to consider a future as an architect. His second tour was as the Flight Support Officer at NAS Oceana, to be near his mother who was terminally ill. He reigned his commission in 1976, never having been assigned to a fleet billet.
He started his second career by enrolling in the Arizona State University College of Architecture, followed by the University of Washington Graduate School in Seattle. He finally found a lady that would laugh at his jokes. Alyne was a pretty little blond patent librarian at Georgia Tech, who had been raised in San Antonio, TX, with a daughter from a previous marriage. They were married on Sadie Hawkins Day in 1992 at Myrtle Beach, SC. Their daughter was born in October 1992 (a month premature). Dale and Alyne moved their family to Dallas, TX in 1994, finally settling into a cozy home in Garland, TX, where he designed luxury homes and Alyne cooked gourmet meals from Bon Appetit.
Dale was considering a potential career change to an art teacher when he passed away on 3 February 2015. He is survived by his wife Alyne and two daughters.
Updated: October 28, 2018
Curator: Ed Moore