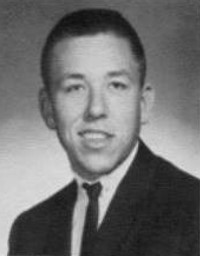 David Dean Holmes, 62, of Leavenworth, died Wednesday, Dec. 1, 2010, at his home.
He was born April 4, 1948, in Quantico, Va., the son of Rex D. and Ramona Jean (Basore) Holmes. He was a 1966 graduate of Trustin High School and was appointed to the U.S. Naval Academy in 1966.
David was preceded in death by his father. He served in the U.S. Army for 23 years. He served in Vietnam in 1968. He retired in January of 1990 as Chief Warrant Officer II.
David loved history especially civil war history. He enjoyed hiking and camping. He was a 24 year member of Leavenworth Baptist Church where he served as usher and was the chair person for the church financial committee. He was also a member of the American Legion in Red Oak, Iowa.
Visitation will be from 4 to 6 p.m. Sunday, Dec. 5, 2010, at the R.L. Leintz Funeral Home. A funeral service will be at 10 a.m. Monday, Dec. 6, 2010, at Leavenworth Baptist Church. Burial with full military honors will follow at Leavenworth National Cemetery. Memorials are suggested to the American Cancer Society or any hospice organization
Updated: September 06, 2018
Curator: Ed Moore