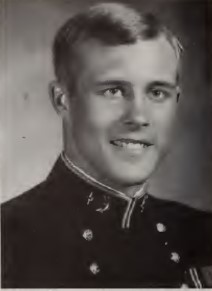 David Leonard King came to USNA directly from high school in West Des Moines, Iowa in 1966. Dave adjusted to the regimented Naval Academy quickly.
He participated in a wide range of sports at Navy, including lacrosse, wrestling, and crew. Dave was on the Dean's List until the Aero Department got hold of him, but despite their efforts, Dave still ranked high in his class. While at USNA, Dave built a reputation as a hard worker and a man to get things done. He was the 5th Company Commander both fall and spring sets his first class year. He always wanted to fly and chose Marine Aviation for service selection.
Upon graduation, Dave reported to the Basic School at Quantico, VA where he underwent training as a Marine Infantry Officer. Since he had selected Marine Air, his next duty station was NAS Pensacola, Florida where he excelled. Again graduating in the top of his flight school class, Dave selected jets and in November 1972, pinned on his Naval Aviator wings. His initial assignment in the Corps was at MCAS Cherry Point, NC where he underwent further training at VMAT 203 in the TA-4J and A-4M Skyhawk.
In December 1973 1st Lt King was transferred to his first operational squadron VMA-331 located at MCAS Beaufort, SC. In a short time, he became qualified as a section leader and was part of the S-3, Operations Department where he was the scheduling officer.
Dave had always been a high performer. While at Beaufort he decided he wanted to become a medical doctor. He planned on completing his initial obligation and thereafter attend medical school under a Navy medical scholarship program. He had been accepted to both programs when he deployed, in September 1974, with VMA-331 to MCAS Yuma Arizona.
On September 23, 1974, Captain King, while flying a night low level bombing mission, at one of the ranges at MCAS Yuma, was killed when the A-4M he was piloting impacted the desert at a high rate of speed. On September 30, 1974, his remains were interred, with full military honors, at Arlington National Cemetery. His parents, Mr. and Mrs. Maurice E. King of West Des Moines, Iowa, survive him.
Updated: September 10, 2018
Curator: Ed Moore