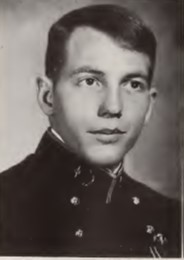 LCDR Frank Allen "Al" Nusom Jr., US Navy (Retired), 58, of Mt. Pleasant, SC, husband of Denise Boshier Nusom, died Thursday, January 18, 2007. The funeral service will be Friday, January 26, 2007 at All Saints Chapel at the Naval Weapons Station at 11:00 AM. Burial will be at Arlington National Cemetery, Arlington, VA on Tuesday, February 27, 2007 at 3:00 PM. Friends may call at J. HENRY STUHR, INC., MOUNT PLEASANT CHAPEL, Thursday, January 25, 2007 from 5:30 PM until 7:30 PM.
Mr. Nusom was born July 25, 1948 in Washington, DC, son of Frank Allen Nusom, Sr. and Rosemary Rosell Nusom. He is a 1970 graduate of the United States Naval Acadamy in Annapolis, MD and he received a Master's Degree in Systems Engineering from Virginia Polytechnic Institute. He was a Senior Engineer at SPAWAR since 2000. Al was an avid sailor and loved nature and the outdoors.
He is survived by his wife Denise, of Mt. Pleasant, SC; his mother, Rosemary Nusom of Pensacola, FL; two sisters, Pam Rahmatdoost and her husband Assad Rahmatdoost of Richmond, TX, and Ana Fenimore of Ft. Lauderdale, FL; a niece, Farrah Rahmatdoost of Richmond, TX, along with numerous other nieces and nephews.
In lieu of flowers memorials may be made to The Spirit of SC Tall Ship, c/o SC Maritime Heritage Foundation, PO Box 22405, Charleston, SC 29413. (843)722-1030.
Updated: September 13, 2018
Curator: Ed Moore