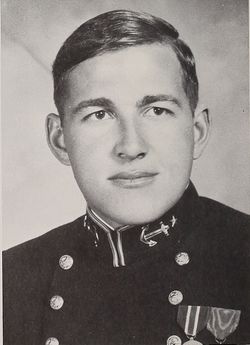 LCDR Jack Alan Fisher was born April 12, 1947 in Stockton, CA. Where he attended high school and junior college. He received his appointment to the United States Naval Academy in 1966. He earned his Bachelor of Naval Science and was commissioned in the United States Navy in June 1970. He received Naval Flight Officer Wings in March of 1971, after completion of electronic warfare school. Naval tours commenced with VQ-2 Rota, Spain from August 1971 through August 1974 flying strategic reconnaissance missions as an electronic warfare evaluator, served as geographical area intelligence analyst in West Germany from August 1974 through August 1976.
He underwent EA-6B training at VAQ-129 at Whidbey Island Naval Air Station. From 1976 to the present he had been a resident of Oak Harbor. He reported to VAQ-133 as electronic warfare officer making cruises on the USS John F. Kennedy and USS Forestall in the Sixth Fleet from May of 1977 to November 1979. He was assigned to VAQ-129 as squadron assistance operations officer and oater as Squadron Safety Officer from November 1979 until July of this year. He reported to VAAQ-138 as Administrative Officer in July of 1981. Jack was killed when his EA-6B Prowler from NAS Whidbey Island, WA, crashed at 08:50 hours on 29 October 1981 into a field off London Bridge Road, about three miles from the NAS Oceana runway, killing three crew members.
His Naval decorations include the Meritorious Unit Citation (USS Roosevelt), Navy unit commendation (VQ-2), Joint Service Commendation (EUDAC), and the National Defense Service Medal.
He is survived by his wife, Jane Robin Fisher, one daughter, Robin Ginou Marie Fisher of Oak Harbor, his parents, Mr. and Mrs. Harrison Fisher, and one brother, William Fisher, all of Stockton, CA.
Updated: October 29, 2018
Curator: Ed Moore