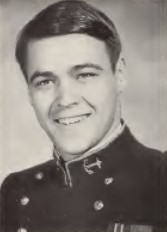 James "Jim" Herbert Hill passed away peacefully on January 30, 2021 at Columbus Regional Hospital in Columbus, IN at the age of 73.
He was born in Tulsa, OK. on January 17, 1948 to the late Herbert and Alma Hill (Kinney) of Sand Springs, OK.
After graduating high school, Jim was selected to attend the US Naval Academy at Annapolis and later trained as a helicopter and fixed wing pilot in Pensacola, FL after graduation. After flight school he was stationed in San Diego, CA, was deployed off the coast of Vietnam, and later recalled to Pensacola as a flight instructor. He remained on active duty until 1978, after which he entered Reserves, and ultimately attained the rank of Lieutenant Commander. For the next 35 years, Mr. Hill worked for a few different companies including Polaroid, the First Years, and Safety First until his retirement in 2010.
Surviving are his brother, Robert Hill of Tulsa, OK.; sons, Ryan (Anastasia) Hill of Billerica, MA.; Jeff Hill of Cushing, ME.; daughters, Amanda (Todd) Sadesky of Santee, CA., Allison Hill of Carlisle, MA.; granddaughters, Anya Hill and Natalie Sadesky; grandson, James Hill; former wives, Carla Eaglen of Columbus, IN. and Karen Hill of Tyngsboro, MA.; countless friends and relatives from Massachusetts, Oklahoma, Indiana and across the country. Loud in laughter and candid with his advice, James cared deeply for his family and friends and was greatly respected by all that knew him. He will be greatly missed.
In keeping with the family's request, cremation has taken place and a memorial service is being planned for later this year.
Online condolences and special memories may be shared with Jim's family at barkesweaverglick.com.
Arrangements entrusted to Barkes, Weaver & Glick Funeral Home.
Barkes, Weaver & Glick Funeral Home
1029 Washington Street
Columbus, IN 47201
Telephone: (812) 372-2515
Updated: February 12, 2021
Curator: Ed Moore