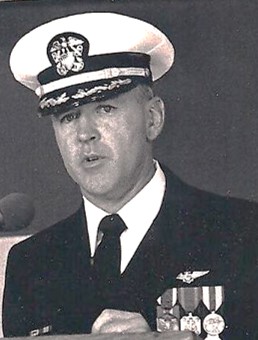 Jeffrey A. Lehman, Captain USN (Ret) of Lemoore, California, went home to be with the Lord on September 6, 2014 at age 66 in his home following a brave fight with cancer.
He graduated from Hanford High School in 1966 then attended the US Naval Academy, Annapolis, Maryland, graduating in June 1970 with a Bachelor of Science Degree in Electrical Engineering. Upon graduation he was commissioned Ensign, USN, receiving his wings and designation as a Naval Aviator in October 1972.
Capt. Lehman began his Naval Aviation Career at VT-26 as an Instructor Pilot from 1972 to 1974. He then served as Weapons Training Officer at VA-22 at NAS Lemoore from 1975 to 1978. Following that he moved to NWC China Lake in March 1978 for a tour of duty working in the Phoenix Missile (AGM-54) branch of the Fuze Dept, served as a primary project pilot for A-7E FLIR software development and validation and was the HARM missile (AGM 88) project officer. Commander Lehman reported to VA-97 holding billets of Safety, Operations and Maintenance officer from 1982 to 1984. He became the Skipper of both the Light Attack Weapons School and VFA-147 from 1984 to 1990. From 1990 to 1992 Jeff served on the Third Fleet Commander Staff as Fleet Exercises Officer, Duty Capt and Air Warfare Officer then was sent to the Naval War College where he earned a Master of Arts in International Relations and Strategic Studies. At the pinnacle of Jeff's career he worked on the Chief of Naval Operations Staff at the Pentagon as Head Tactical Training Ranges Section from 1993 to 1995.
After retiring on July 31, 1995 from the Navy, Capt. Lehman established the NJROTC at Hanford West High School in 1996 and in 2000 went on to be Digital Technologies Director for Hanford Joint Union High School District. He began teaching at Kings Christian High School in 2003 and held many different titles such as Math and Science Teacher, Technology Specialist and President of the Booster Club.
Whether you knew him as captain, teacher, friend, husband or Papaw, his impact on your life was undeniably special. He would never say "no" when asked to help out with his family, church, school or community. Anything he touched was done with perfection. His love for his family and his God was irrefutable. He was loved by all and will be greatly missed, but because of his love of Christ we as Christians have the assurance that we will be reunited again in Heaven.
Capt. Lehman is survived by his beloved wife of 34 years, Ginger Lehman of Lemoore, CA, his children Gina Skaggs and husband Jay of Hanford, CA; Michelle Vickers, husband Kaine and granddaughters Bobbi & Ellis of Hanford, CA; Michael Lehman and wife Megan of Jacksonville, FL and his grandson Cody Skaggs, fiancé Corrina and great granddaughter Charlotte of Hanford, CA. He is also survived by his mother, Sophie Lehman of Sebring, FL and sister Deborah Hanna, husband Craig and nephew Jessie.
A final honors ceremony and 21-gun salute will be conducted for Captain Lehman at Grace Bible Church on September 13, 2014 at 4:00 p.m. (707 W. Fargo Ave, Hanford, CA 93230). His family requests that in lieu of flowers contributions be sent to either Grace Bible Church or "Jeffrey A. Lehman KCS Science/Math Tuition Scholarship" to help establish a scholarship for a distinguished student of Kings Christian High School who exemplifies the level of achievement he strived to teach each of his students. Contributions to the fund can be mailed to KCS, 900 E. D St, Lemoore, CA 93245.
Updated: September 14, 2018
Curator: Ed Moore