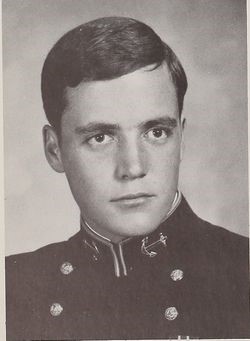 Jeffrey Dean Stanley came to the Naval Academy in 1966 from Lemoore, CA, where his father, Leo Stanley was the mayor. Jeff was initially assigned to 36th Company and he transitioned to 6th Company in 1968. Jeff's Company-mates remember him as being pretty laid back and fun loving. He hung in there to graduate in June 1970 despite a few visits with the Academic Board and Commandant. Upon graduation, Jeff headed for Pensacola to earn his wings of gold. His first operational assignment was with Fleet Composite Squadron 7 (VC-7) at Naval Air Station, Miramar, CA. VC-7 aircraft frequently towed targets and engaged trainee pilots in aerial dogfights. Jeff reported for duty at Miramar with his wife, Sally. Jeff flew the A-4C Skyhawk while assigned with VC-7.
Jeff was killed in a mid-air training accident near San Diego on 19 November 1974, when his A-4C aircraft collided at 16,000 feet above the Pacific Ocean with an F-4J Phantom II. The collision occurred 35 miles northwest of San Diego. Jeff was returning to Miramar at the time of the accident and the F-4J was headed for the Pacific Missile Range northwest of San Diego. A twenty-hour search was conducted for Jeff covering 200 miles of the Pacific, but to no avail. Jeff was presumed dead and lost at sea. The F-4 Phantom pilot and RIO ejected and were rescued 35 miles from San Diego.
Jeff was survived by his wife, Sally, who was pregnant at the time of the accident.
Updated: November 05, 2018
Curator: Ed Moore