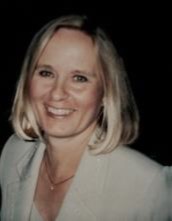 Loving wife, mother, and grandmother passed away on Tuesday, March 27, 2018. Karin was born in Pensacola, Florida January 7, 1951. She grew up in a Navy family, the daughter of Robert Awtrey and Lisa Jansson. Her family was stationed both in the United States and abroad, including such far-flung locales as Hawaii, California, France, Germany, and England.
In the summer of 1971, Karin met the love of her life, Dan, in Naples, Italy. She was visiting her parents; he was on shore leave from the U.S. Navy. Karin and Dan married in December 1971 in Norfolk, Virginia. They spent the next 46 years on a grand adventure together, living and traveling around the world while raising three children.
Karin attended Middlebury College, but completed her studies at American University in Washington, D.C. as a member of Phi Beta Kappa. During her life, Karin worked in a variety of positions, including as a librarian and as a docent at the National Gallery of Art in Washington, D.C., but her proudest role was as a homemaker, mother, and grandmother to her family.
Karin is survived by her husband of 46 years, Daniel Akerson, her children, Keith, Gretchen, and Elizabeth, her grandchildren, Emma, Thomas, Lucie, and Russell, and her brother, Warren Awtrey.
A funeral mass will be held on Monday, April 2, 2018 at 11 a.m. at St. Luke's Catholic Church, 7001 Georgetown Pike, McLean, Virginia 22101. Private interment will be held at the US Naval Academy Cemetery.
In lieu of flowers, the family requests donations be made in her memory to S.O.M.E., 71 O Street, N.W., Washington, D.C. 20001.
Updated: April 03, 2018
Curator: Ed Moore