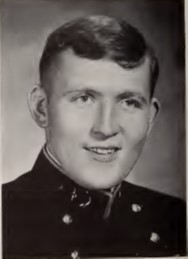 As a stellar student in high school, the discipline, quality education, and life opportunities of the Navy drew Lee to USNA from Chicago. At the Academy, Lee excelled as a student and as an athlete and relished the close friendships he made. He loved field-ball and lacrosse. His roommates fondly remember Lee noisily and incessantly searching for the perfect Aero pencil in his desk drawer – but all was forgiven as he pulled them through Wires and Thermodynamics. As a roommate and a friend he was a special person, never to be forgotten.
Lee and his high school sweetheart, Marilyn, were married in Chicago and went directly to the Naval Post Graduate School in Monterey, where Lee earned a Master's degree in Aeronautical Engineering in June, 1971. It was then off to Pensacola where Lee earned his wings as a helicopter pilot in 1972. They returned to California and HS-10 for more training and to welcome their daughter Elizabeth, born in March, 1973. After the RAG, Lee joined HS-4 as an anti-submarine warfare pilot deploying to the Western Pacific and Indian Ocean.
In June 1975, Lee was conducting training in Helo 66, the aircraft used to recover Astronauts of five Apollo missions, when it was involved in an accident off the coast of San Diego. Lee was able to control the Helo so that all four crew members survived, but he suffered injuries that ended his life. Lee truly appreciated the opportunities the Naval Academy afforded him and with a humorous good spirit enjoyed the challenges of his career choice. He relished the friendships he made and spent his short life doing exactly what he loved.
Lee's greatest joy was his family. Nothing made him happier than a day at Disneyland with two-year-old Beth. Beth is now an Assistant Professor of cardiovascular sonography at the Kettering College of Medical Arts in Kettering, Ohio. Marilyn married Lee's squadron mate and classmate, Tom Fowler, and they had two more children, Carol and Rob. Tom and Marilyn have four grandchildren.
Updated: September 18, 2018
Curator: Ed Moore