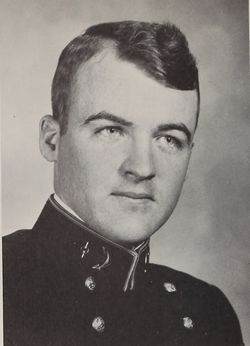 Pat arrived at the Naval Academy from Alexandria, Virginia, son of Rear Admiral Warren O'Neil (USNA '45) and younger brother of Mike (USNA '68). He flourished at the Academy and quickly became a leader among his classmates, earning respect and admiration for the quality of his character, his intelligence, and athletic prowess. The last of which earned him the nickname, "Scooter," for the way he moved about the field during competition. He was the company representative to the Honor Committee. He knew he was going to be a Naval Aviator and he wanted to fly the F-4 Phantom jet. He displayed a model of the supersonic jet, given to him by his father, on his desk.
While at the Academy, he met the love of his life, Linda. They later married and after graduation set out to Pensacola, Florida, on their Navy adventure. He achieved his first goal in 1972, when he was awarded the "Wings of Gold" as a Naval Aviator and subsequently went to the Replacement Air Group at Naval Air Station, Oceana, where Naval Aviators train on the specific aircraft they have been assigned to fly. In Scooter's case, it was the F-4 Phantom. After the RAG, he deployed with a Carrier Battle Group to the Mediterranean Sea with his Oceana-based F-4 squadron and excelled. His talents were doubly honored when he was selected for Navy Test Pilot School and selected early for Lieutenant Commander.
Pat's Navy adventure tragically ended on June 13, 1978, at Naval Air Station, Patuxent River, Maryland, when the plane he was flying crashed during landing. He left behind Linda and three young children; the oldest who was eight years old. The Navy lost one of its very best, but his family lost more. Going to the Academy, the bar for character is set high, but seldom comes along a man who was so pure, honest, loyal, and generous. He raised the bar for those who knew him. He was recognized as an exceptional Naval Aviator, but he was most proud of his role as a husband and father. He is missed.
Updated: October 29, 2018
Curator: Ed Moore