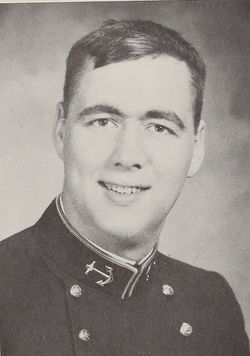 Paul received a Congressional Appointment to the Naval Academy from the small town of Funkstown, MD. He was recruited to play football, but opted not to play after his Plebe year. Paul was a steady performer over his entire four years at USNA and was very active in the intramural program. He played a lot of pickup basketball at the Field House, where his height and bulk made him immovable under the boards and subsequently a great rebounder. Following his second class summer experiences in Pensacola, he decided to make Navy Air his service selection.
After earning his wings of gold, Paul decided to fly helicopters and ended up specializing in the Antisubmarine SH2D Seasprite. In the late 1970's, Paul was assigned to HSL-30 at NAS Oceana, VA. He and his family resided in Chesapeake, VA. Paul was assigned to a training flight that departed NAS Oceana for NAS Brunswick, ME on 20 May 1979. The purpose of the flight was instrument training. The SH2D went down about 0930 in a field near a sparsely populated residential area north of Manchester, NH (by the Airport). All five crewmen aboard, to include Paul, were killed on impact.
Paul was buried in Rest Haven Cemetery in Hagerstown, MD. He is survived by a wife and two children.
Updated: October 29, 2018
Curator: Ed Moore