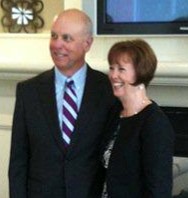 Ernest Stephen Breithaupt, known by all as Steve, passed away on December 7, 2022 at Accentcare Hospice Services in Cumming, Georgia. Funeral Mass will be held at St. Ann's Catholic Church, 4905 Rosewell Road, Marietta, GA 30062. Services will begin at 11:00 A.M. on Friday, January 6, 2023 immediately followed by a memorial service and reception in the Parish Center.
Steve was born on August 23, 1947 in Lorman, Mississippi and was the oldest child of Ernest Truman Breithaupt and Ruth Spurlin Breithaupt. After graduating from Jefferson County High School, Steve began his collegiate studies at the United States Naval Academy. After transferring to Mississippi State University, Steve graduated with a degree in Computer Science and Statistics and moved to Houston, Texas where he began a long and distinguished career in Information Technology.
While in Houston, Steve met and fell in love with Minnie Evelyn Bible. They were married in the spring of 1978 and had two children, Joseph and Jennifer. Upon moving his family to Atlanta, Georgia in the fall of 1987, Steve continued his storied career, serving as the CIO of several Atlanta-based companies, the Senior Vice President of Technology Solutions Company, and the President and Founder of IT Governance Partners.
In his free time, Steve was an accomplished outdoorsman who spent much of his time maintaining the family farm in Lorman, Mississippi. He was also an accomplished home builder, serving first as a member of the St-Ann's Habitat for Humanity team and rising to president of Nassau County Habitat for Humanity in his retirement. Steve was also extremely active in the Catholic Church, serving as Head Usher at St-Ann's throughout the early 2000s.
He was loved dearly and is survived by his wife of forty-four years Minnie Bible Breithaupt of Gainesville, Georgia and his children: Ernest Joseph Breithaupt and wife Jessica of Alpharetta, Georgia; and Jennifer Breithaupt Culbertson and husband Jarod of Alpharetta, Georgia. He is also survived by his siblings: Mona B. Neal of North Las Vegas, NV; Kathleen (Kathy) B. Brown and husband, Allen, of Port Gibson, MS; Charles (Charlie) E. Breithaupt and wife, Edith, of Petal MS; Katie B. Martin and husband, Jimmy, of Vicksburg, MS; and Karen B. Harper and husband, Cecil, of Madison, MS. Steve leaves 5 grandchildren: Elsa Juliette Breithaupt, Adelynn Pearl Breithaupt, Ainsley Emelia Breithaupt, Aria Evelyn Culbertson, and Jude Redden Culbertson all of Alpharetta, Georgia. He was blessed with numerous nieces, nephews, and beloved friends.
The family would like to convey special thanks to Northside Forsyth Hospital and Accentcare Hospice Services for the care and devotion shown to Steve in his final time with us. Memorial donations may be made by check to the St. Ann's Habitat for Humanity at the following: Check: St. Ann's Habitat for Humanity Memo: In memory of Steve Breithaupt Attention: Habitat for Humanity 4905 Roswell Road Marietta, GA 30062.
Updated:15 December 2022
Curator: Ed Moore