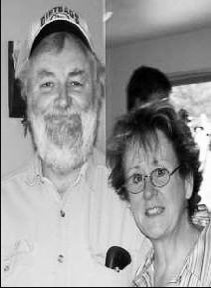 Ted Clawson passed away at home with family on March 29, 2009 from pancreatic cancer.
Ted was born on April 1, 1948 in Ashland, Oregon to Theodore and June Clawson. Everyone in Ashland knew little Ted Clawson, and he roamed around the town like he owned the place. His youth was spent pursuing such interests as taking dressed up goats to school, and dressing a pet chicken in overalls fashioned by his grandmother.
Ted worked hard, and earned an appointment to the U.S. Naval Academy. From there, he decided to leave the Navy and join the Air Force. He served at Strategic Air Command in Omaha and then went on to serve in the Philippines in telecommunications. His honor was to be one of the servicemen selected to assist returning Vietnam POW's with first phone calls to family back in the States. Ted had a special place in his heart for American heroes such as these men.
He earned a B.S. in Geology in 1977 and worked as a field geologist in the oil fields of Texas and Oklahoma, and for the Basalt Waste Isolation Project at Hanford. He took time off to stay home and oversee the teenage years of his children. For the last fifteen years of his career, he worked for Snohomish County Road Maintenance. His favorite assignment was with the button crew, a job he relished with pride.
Ted loved music and literature. He loved cribbage. He rescued many dogs and made them his pal. He loved beer, especially the seasonal microbrews. The rock hunts, trips to Lincoln City, camping and fishing, helping with homework… these are some of the things that Ted loved about his life. From his wife of 34 years, Bridget and their three children, Ben, Andy and Caroline and grandson, Luke, this truth about Ted Clawson: His hand was always there for us to hold and he never let go. His love – and we were lucky enough to have it – was a love we could trust. What we miss most about you Ted is how you made us feel like everything was going to be alright. You somehow still make us feel that way.
A memorial service for Ted Clawson is planned for 3 p.m., on Saturday, April 4, 2009, at the Arlington Road Maintenance Shop located at 19620 67th Ave NE, Arlington, WA.
In lieu of flowers, memorials to Skagit Hospice 819 S 13th Street Mount Vernon, WA. 98274.
Updated: September 12, 2018
Curator: Ed Moore