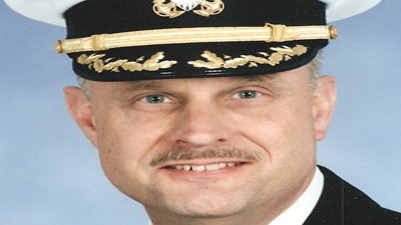 Captain Thomas Lyle "Stretch" MacKenzie, USN (Ret.), passed away on Friday, September 27, 2013 at age 65 of complications from a fall. He was born and raised in Baltimore, Maryland by Robert and Mildred MacKenzie. Tom attended Calvert Hall College High School and went on to an appointment at the United States Naval Academy in 1966, graduating in the class of 1970. He later earned a master's degree in systems management from the University of Southern California.
After earning his wings os gold in 1972, Captain MacKenzie was a flight instructor at Kingsville, TX, where he flew A-4 Skyhawks. From 1974 to 1984, he was stationed at Oceana Naval Air Station in Virginia Beach, VA, where he primarily flew F-14 Tomcats. During this time, he served in the North Atlantic and the Mediterranean aboard the aircraft carriers USS John F. Kennedy and Dwight D. Eisenhower.
In 1984, he was selected to be operational and training head at the newly established Naval Strike Warfare Center in Fallon, Nevada. In 1986, he was stationed at the Naval Air Station in Miramar, CA., where he held various command positions before being assigned as executive officer and finally squadron commander of The Sundowners, where he flew Tomcats. By the time he ended his flying career in 1990, he had logged more than 4,500 hours and 830 carrier landings.
Captain MacKenzie joined the staff of the Chief of Naval Operations in Washington and then the Naval Air Systems Command at the Naval Air Station Patuxent River in Southern Maryland. There he was director of warfare analysis and ended his naval career in 1999 as director of air-to-air weapons systems.
He faithfully served his country for thirty-three years and upon his retirement from the Navy proceeded to serve as a Professional Staff Member in both the Senate and House of Representatives Armed Services Committee from 1999-2005 and from 2009-2013. He also served Northrop Grumman Corporation as Vice President of Naval Programs from 2005 until 2009.
He was a beloved father, grandfather, brother, friend and loyal servant of his country. He joined his Savior while surrounded by family and will be missed by those who loved him and counted him as their friend. A funeral service will be held on Saturday, October 5, 2013 at Pierce Funeral Home in Manassas, VA. Visitation begins at noon with the funeral service commencing at one.
He is survived by a son, Matthew MacKenzie of Andover, NH; a daughter, Rhonda Fowler of Bristow, VA; a brother, Garth MacKenzie of Millersville; and six grandchildren. A marriage to the former Pamela Fleming ended in divorce.
Arrangements are being made for a full honors burial at Arlington National Cemetery at a later date. In lieu of flowers, please make donations to Calvert Hall College Scholarship Foundation or the charity of your choice.
Updated: September 14, 2018
Curator: Ed Moore