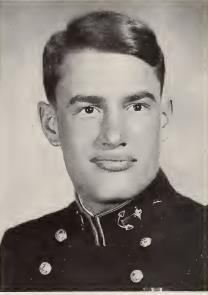 Thomas Orin Merrell was born November 15, 1947, in Stoneham MA. He was the son of Martha J. (Jacobs) Merrell Wible and the late John Orin Merrell. A 1965 graduate of Huntingdon High School, Tom attended the University of Villanova for a year and then received an appointment to the U.S. Naval Academy in Annapolis, MD. Academically, his love was literature, the arts and creative writing, in which he excelled. His distinguished personality was not limited just to the confines of Bancroft Hall as Tom excelled as an active member of the Masqueraders. He was known as "T.O." by most of his classmates. He graduated on June 3, 1970 with a bachelor of science degree.
Following graduation, Tom served aboard the USS McMorris (DE-1036) as the CIC officer for two years. Tom saw the potential of the support side of the Navy and was selected for Navy Supply School in Athens, VA, after which he served for two years as supply officer aboard the USS Richard E. Byrd (DDG-23), a guided missile destroyer. Tom served in various positions in Washington, DC, including the cruise missile project and on the staff of the assistant secretary of the Navy. He retired from the Supply Corps as a Commander in 1991.
After his retirement, he applied his skills in the civilian community with Science Application International in Falls Church, VA, as a senior contracts manager. He and his wife Jo had one son, Hunter Merrell, who blessed them with a grandson Noah. His three great passions were his grandson, fly fishing and the mountains of Central Pennsylvania. He made many happy trips to Park City, UT to see his grandson. His dreams centered around building a home on land overlooking the valleys of Pennsylvania and helping local artists use the local shale rocks in their projects.
On December 3, 2000, Tom passed away while on his favorite spot of land in the mountains near State College, PA. Funeral services were held Thursday, December 7, 2000, and Tom was laid to rest in nearby Huntingdon, where his mother and brother Scott resided. Using one of Tom's prized pieces of shale, Doc Breen placed 16th Company's first rock-in-the-wall carved with Tom's name and Class numerals in his home.
Tom was survived by his mother, Martha J. Merrell Wible of Huntingdon, PA; one son, Hunter F. Merrell of Park City, UT; a grandson, Noah also of Park City; and two brothers, Robert J. Merrell of Lewisburg, PA; and R. Scott Merrell of Huntingdon.
Updated: November 10, 2018
Curator: Ed Moore