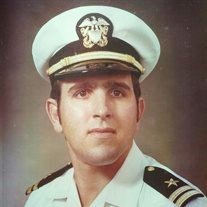 William "Bill" McIver Kemp, age 70, of Springboro, Ohio, passed away February 22, 2019, at Hospice of Butler-Warren Counties after battling dementia and cancer. He was born in Scranton, Pennsylvania on October 13, 1948, to the late William and Nancy (McIver) Kemp.
Bill graduated from the United States Naval Academy in 1970 and served as a Navy Pilot for 5 years. He was employed with Nalco Chemical Company for 39 years and retired in 2013.
Bill is survived by his wife Cathy Kemp; daughter Shannon (Andrew) Bockelman; son Christopher (Angela) Kemp; two grandsons, Anderson McIver Bockelman, Hudson McIver Kemp; two granddaughters, Claire Elizabeth Bockelman, Adley Brooke Kemp, and his brother Charles McIver Kemp.
Memorial services are Sunday, March 3, 2019, at 3:00 pm at Anderson Funeral Home, 40 North Main Street, Springboro, Ohio with Chaplain Tom Myers officiating. Visitation will be prior to service from 1:00 pm to 3:00 pm also at the funeral home.
In lieu of flowers, donations can be made to Hospice of Butler & Warren Counties. Please visit Anderson Funeral Home to send an online condolence.
Updated: March 01, 2019
Curator: Ed Moore