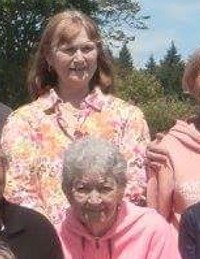 Gary Knight's wife Brenda experienced a harrowing time following Hurricane Harvey in Texas. Many classmates know Brenda from our class football tailgates. A week before the hurricane, Brenda flew down to east Texas (Vidor, near Beaumont) to administer to her 92 year-old mother (see picture at right) who had just undergone a major operation. The week before the storm, her mom was so weak she needed round-the-clock care since she couldn't walk, or get out of bed or up from a sitting position. After Harvey went by, they experienced five days of solid rain, totaling over 53 inches.
On the morning of August 30th, local authorities began releasing water from two nearby dams to avoid complete structural failure, but failed to notify the affected communities. At 9:00 a.m., her mother's street and yard had not been impacted, but they quickly began to flood. By 1:00 p.m., the front and back yards were submerged with over a foot of water. As instructed by local authorities, Brenda called 911 for evacuation as it was clear the water would soon enter the house, but was told there were some 700 evacuation requests ahead of her. Earlier that day, Brenda's daughter had requested an evacuation from the "Cajun Navy" for her brother and his family, since her brother is disabled, can't walk, and his home had over 2 feet of water in it. The "Cajun Navy" had safely rescued them and taken them to a hotel in Beaumont, TX. Brenda then decided to call her daughter, living in the area but not as affected by the flood waters, and asked her to go on Facebook and request an evacuation by the "Cajun Navy", letting them know it was for two people with one being a 92-year old woman, on oxygen and recovering from recent surgery. The following pictures provide a rough time sequence of the event.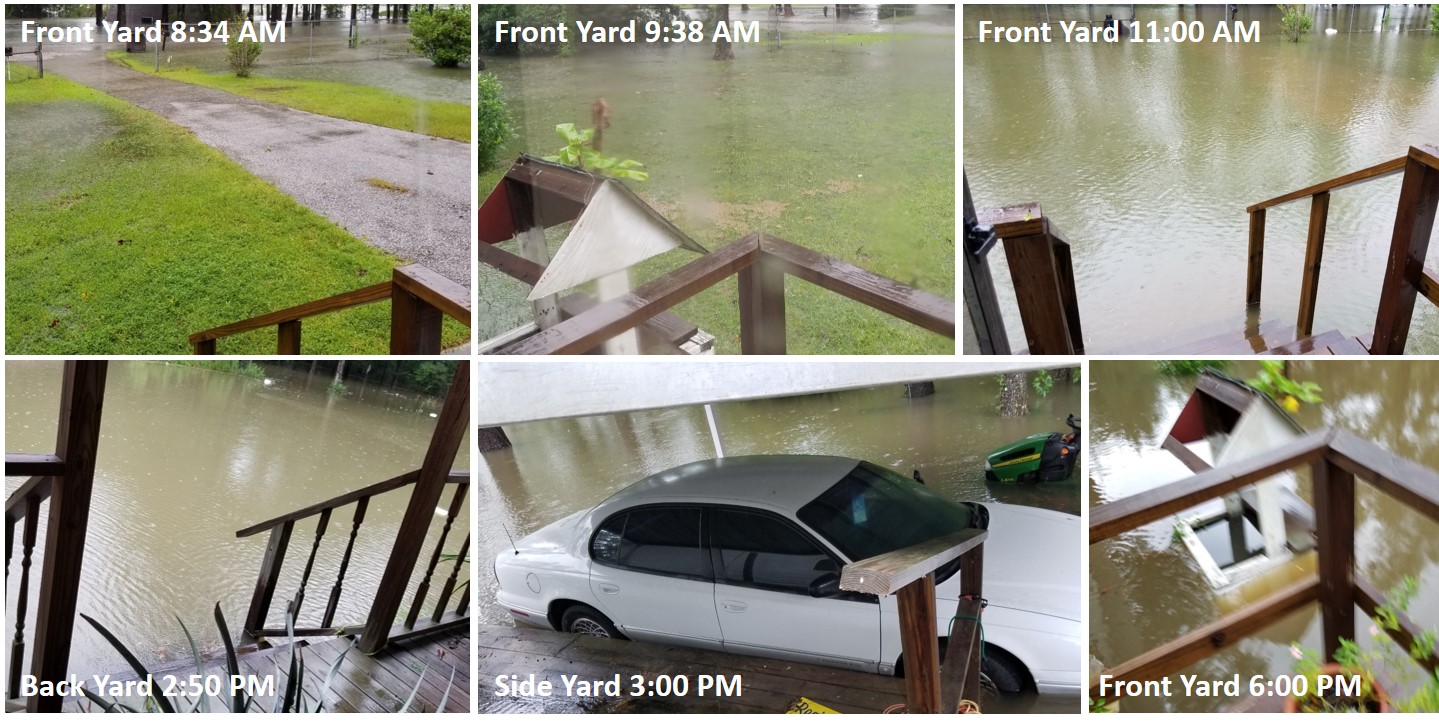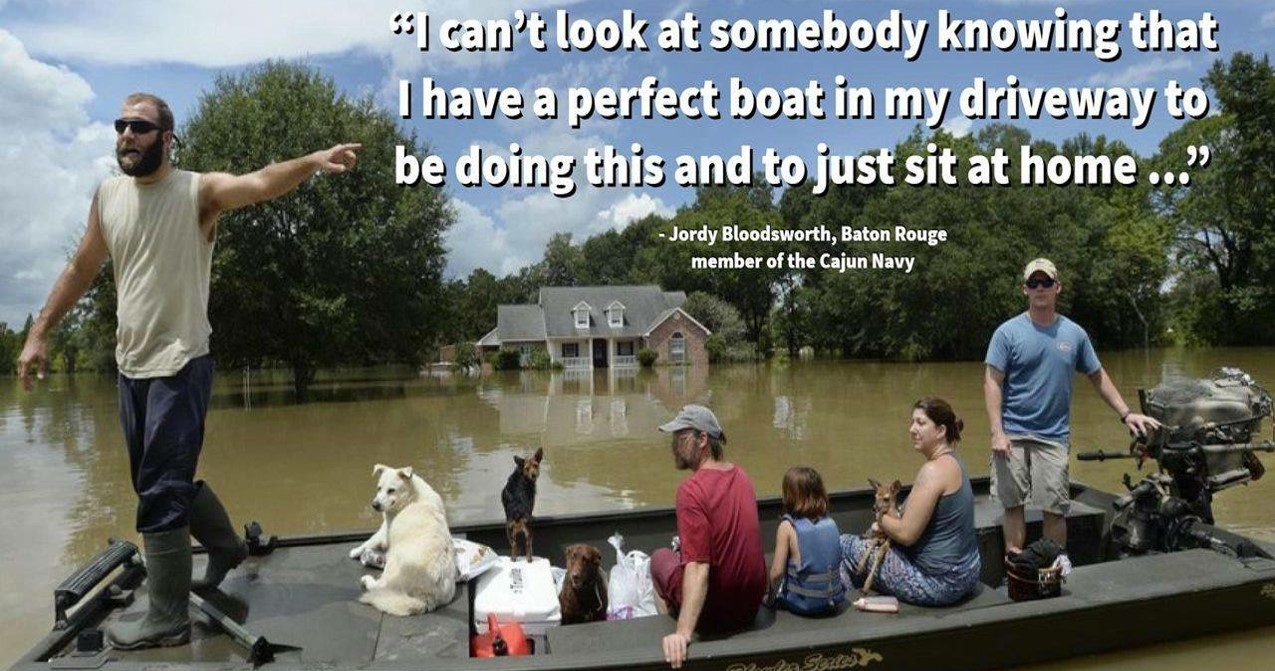 Just before the water topped the front porch, a flat bottomed boat approached with two gentlemen from the "Cajun Navy". They introduced themselves and then added that they were just "two coon-asses from Louisiana trying to help out." They carried Brenda's mom to the boat as it was still raining heavily and motored a few blocks away where their truck was parked. Putting them in the truck to get out of the rain, they attempted to get the two of them to a relative's home who lived locally, but the flood waters were too deep to reach their relative on the other side of the flooded road. So the two saviors offered to take them to a motel in Lake Charles, Louisiana, on their way home to Lafayette. They also offered their assistance if they should need anything during their stay in Lake Charles, stating they were only an hour away and could get there quickly. Upon arrival, both gentlemen assisted them into the Lobby and checked them into the hotel, insisting on paying for their first two nights' stay along with breakfast.
Every day Brenda would receive a text from one of these two angels asking how Miss Gladys, her mom, was doing and if they needed anything. At the end of the two days, he also offered to pay for their additional nights' hotel stay, but of course Brenda declined his gracious offer. On Saturday, he also sent a text message saying that he, his wife and 3 children were coming to Lake Charles that day and asked if there was anything they needed. After a week, Brenda and her mom were able to go to Brenda's sister's house who finally had her power restored. However, there is no question that without the efforts of the "Cajun Navy", Brenda's mom would probably not be with us.
The following pictures were taken by Brenda to show the flood damage incurred by her mother's home.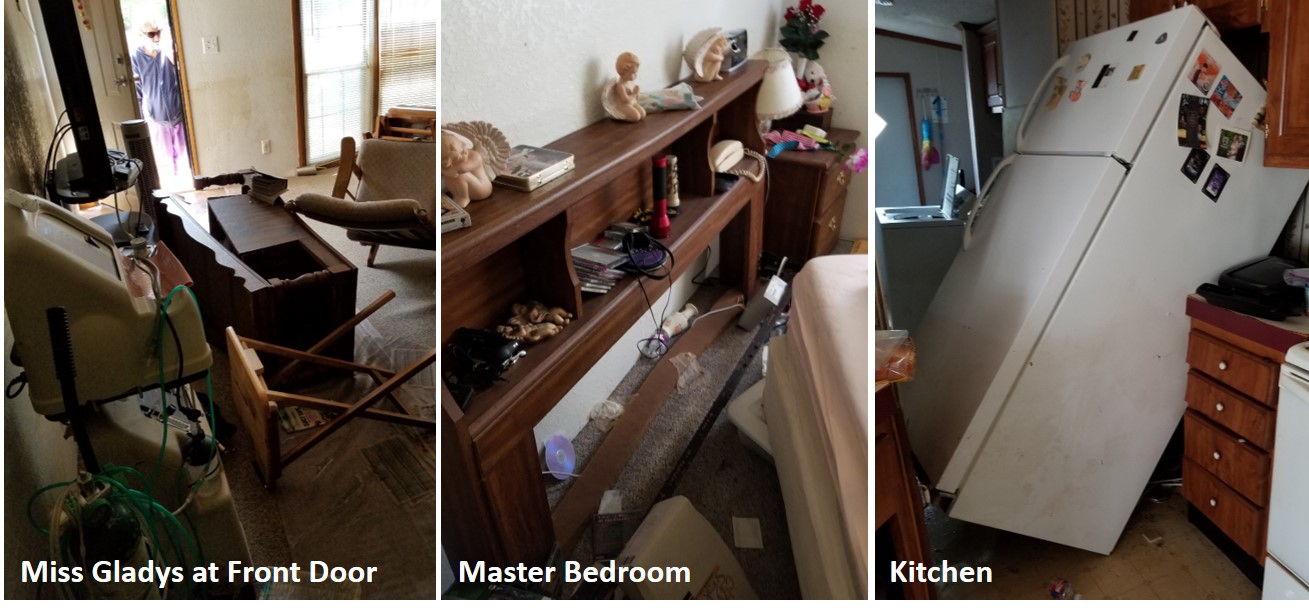 Updated: September 27, 2017
Curator: Ed Moore