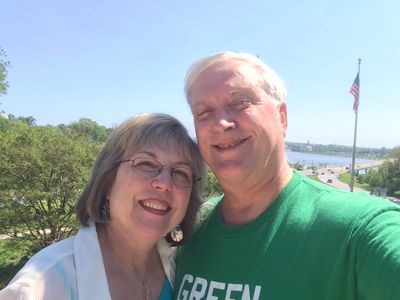 Ted and Kathy Tabb first met at a June Week cottage Ted's Second Class year. Kathy was Mike Cosgrove's date, while Ted was busy shuffling two other dates that week. One night, when Ted had no date and Kathy was bored Ted asked her if she would like to take a drive in his new Corvette. They stopped to enjoy the view at the scenic overlook on Ritchie Highway and the rest is history. This picture was taken in the same spot 44 years later.
Kathy has been sewing most of her life, and has taken pride and pleasure in her work but never has as much fun as she does when she sees the smiles from one of her granddaughters when she gives a present with her name embroidered on it. She puts the same care and pride into each piece of work she does for her customers as she does for her family.
Custom Items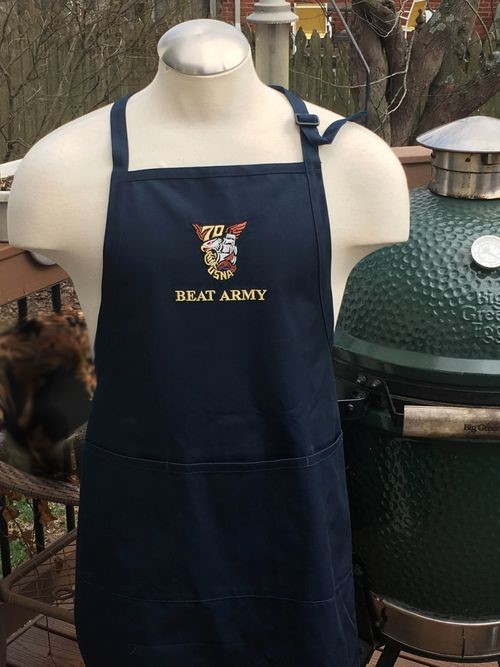 Kathy started custom embroidery as a hobby in 2007 when her first granddaughter, Courtney, was born. It was fun customizing everything for her. Four months after Courtney arrived her cousin, Annalise, was born. Have you ever seen the name "Annalise" on anything? She hadn't. So she did even more embroidery as the family grew. She did some monogramming for herself and also Ted now and then. Soon her friends wanted customized gifts for themselves and their loved ones and things started getting busier and busier. Then she had two more granddaughters!
USNA '70 Items
Kathy's Stiches is a small cottage business operating from a room over their garage, which Ted refers to as the Sweat Shop. She started out with a small one needle machine in 2007 mostly as a way to get the machine to embroider for their first granddaughter. Business then was mostly word of mouth. By 2012 she was starting to embroider for a local Boutique and created an online shop with Etsy. It became apparent that she needed more than just a home machine so she upgraded to an industrial 6 needle machine.
The idea for the Class of '70 crest arose when Ted wanted to have Kathy make hand towels for some of his classmates. He contacted Royal Connell who sent him the pdf file which she had professionally digitized for embroidery. When she saw Rick Heaton wearing a BBQ apron at a Navy football tailgate, she decided he needed an apron with the '70 crest (see the picture above). The aprons are available on her website "Kathy's Stitches" for $25 each plus $7 shipping. When classmates saw Ted's shirt with a crest at an Army - Navy game, interest in having more items began to grow. She has limited space to carry inventory, but is open to carrying more items such as golf towels and shirts as well as the aprons. She would love to additional ideas from the Class of '70.
Kathy can be reached at:
Kathy's Stitches
1020 Turnberry Lane
Lexington, KY 40515-5082, US
(859) 312-0659
kathytabb@gmail.com
Updated: May 20, 2018
Curator: Ed Moore