After a great career in the Navy's 1140 Special Operations/Diving & Salvage community and 15 years of preparation, Sherry and Dave left Florida (almost 11 years ago) on their 44' CSY cruising sailboat. They were planning on a 10 year circumnavigation of the world, as they didn't want to miss anything or have to do it again. Most US cruisers are in a hurry and circle the globe in less than 5 years. The picture below depicts the original "Soggy Paws" underway in Molokai Channel off Oahu, Hawaii.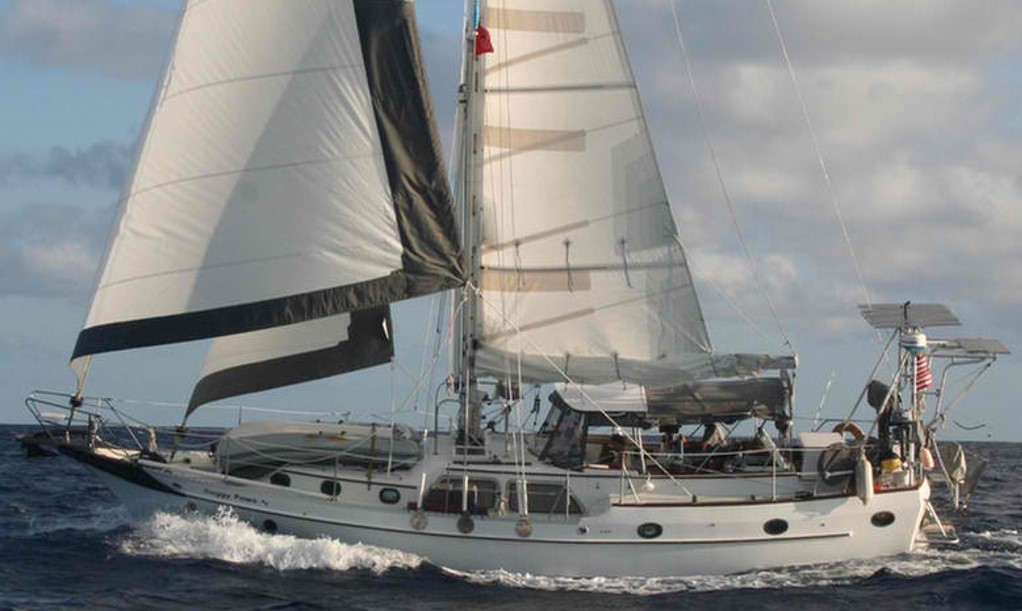 Dave and Sherry first headed south through the Caribbean and then west through the Panama Canal. They spent the next 7 years crossing the Pacific. Highlights included the Galapagos, Easter and Pitcairn Islands, French Polynesia, Hawaii, the Samoas, Tonga, Fiji, the Marshalls, Federated States of Micronesia and Palau, before arriving in the Philippines in August 2014. They met 4 classmates along the way: Bruce Stevens (on a circumnavigation in French Poly), Gary Tettelbach (living in NZ), Kent Blythe (living part time in Subic, PI) and Roilo Golez (living in Manila, PI). Dave's USNA roommate, Jim Neale, visited them in Tahiti/Morea for two weeks. Their route is provided below.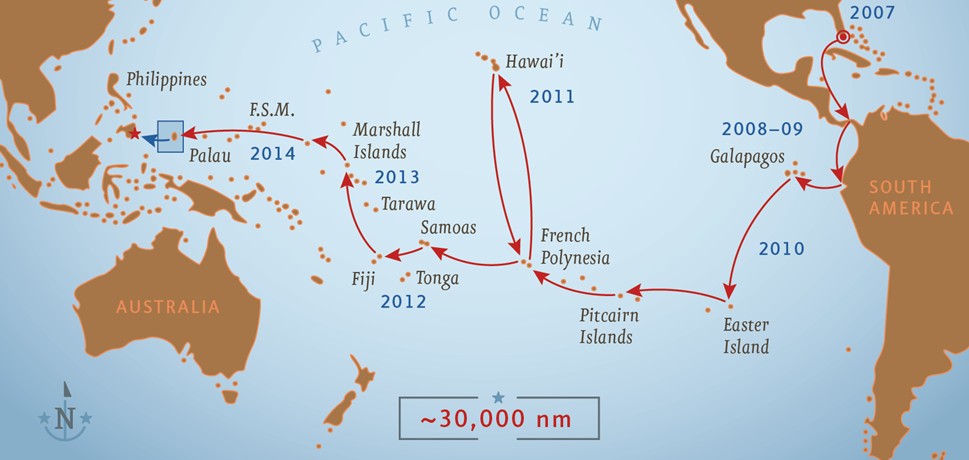 Dave and Sherry have been based in Davao, Philippines for the past three years. While there they sold their 1980 CSY monohull and moved up to a 2005 St Francis 44' catamaran. A picture of the new "Soggy Paws" is provided below. They have also made annual 2-3 month return trips back to the "land of stuff" (USA), often using Space A travel, for R&R, medical preventative maintenance and golf.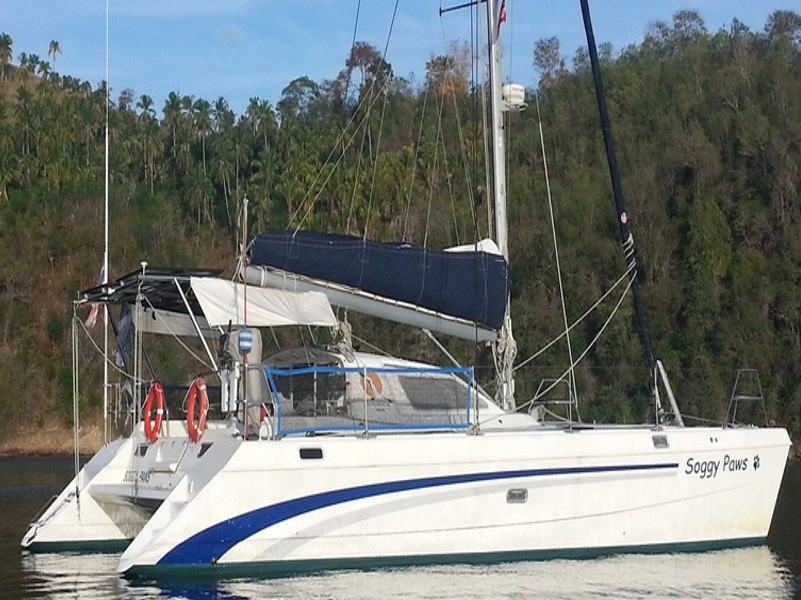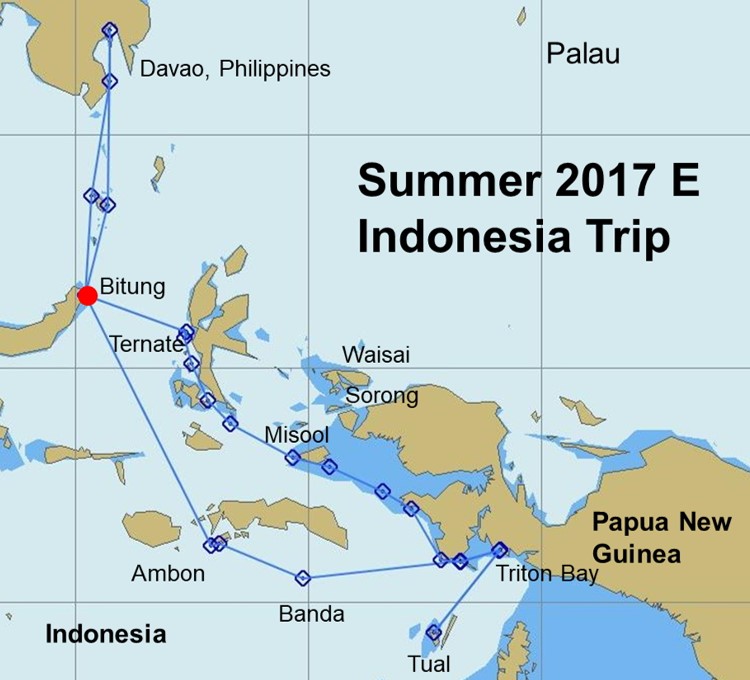 In 2016 Dave and Sherry cruised south to Raja Ampat, diving's newest Holy Grail, in eastern Indonesia and back to Palau for diving and WWII history. Then in 2017 they visited the Spice Islands and western Papua (New Guinea) for a bit of Dutch history, river travel and diving. This route is depicted to the right. During the summer of 2018 they plan to cruise the upper and western Philippines, always looking for that perfect scuba diving location for rusty WWII plane/ship relics. They also plan to visit with Roilo Golez in Manila again.
So far, Dave and Sherry have cruised about 35,000 nm and are only about half way complete. They will be moving west again in 2019 via New Guinea, the Solomons and southern Indonesia. Dave is hoping they get back to the USA before he has to retire from diving and golf, or more permanently.
For anyone interested in following their future adventures, their website is: Soggy Paws.
Attached below are two pictures of four 31st Company "Old Folks" taken during a recent get-together at Alan Hail's home in Punta Gorda, FL. The first picture Left to Right are: Alan Hails, Will and Melinda Bramlett, Dave and Sherry McCampbell and Jim Neale. The second picture Left to Right are: Alan Hails, Jim Neale, Dave McCampbell and Marc Farris.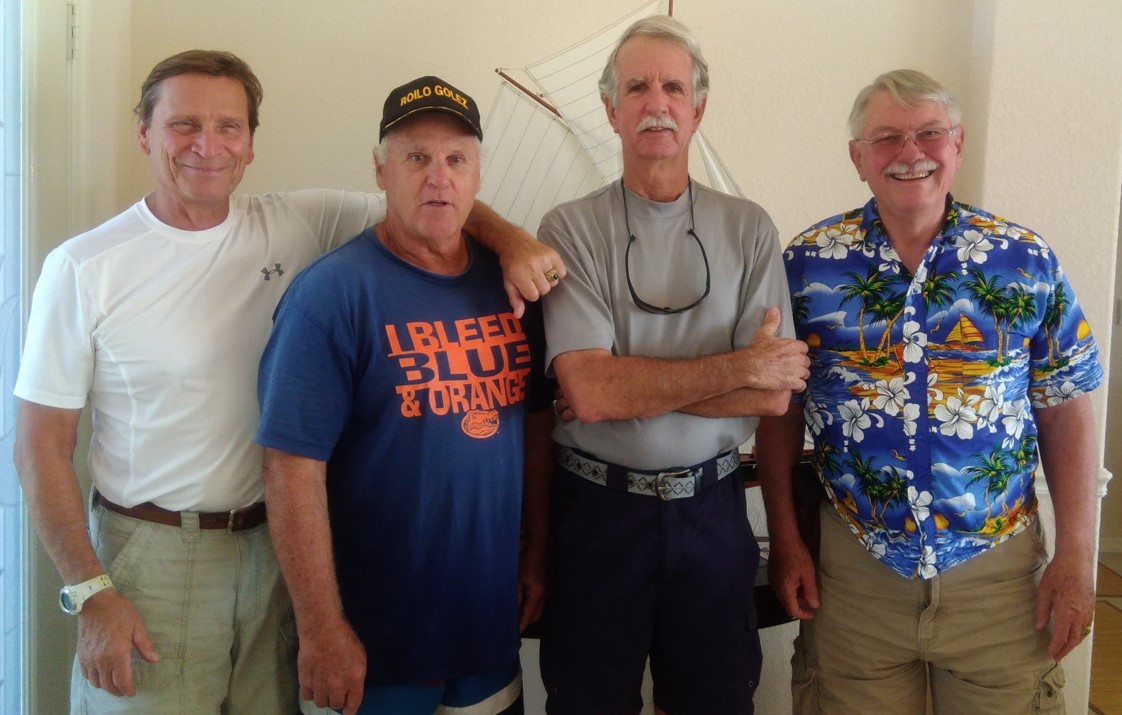 Updated: January 07, 2018
Curator: Ed Moore