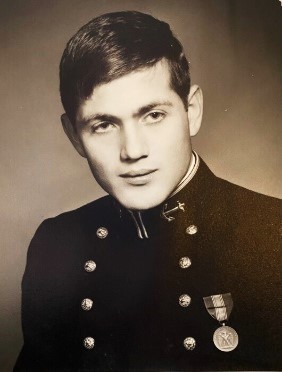 William "Bill" Redding Bacon, age 73, loving husband, brother, father, and grandfather passed away peacefully at his home in DeFuniak Springs, Florida on December 27, 2021, after a lengthy battle with Synovial Sarcoma cancer. Born October 20, 1948, in Anniston, Alabama, he was known as an athletic and cerebral member of the community. He was appointed to the U.S. Naval Academy and received a B.S. degree in Naval Architecture in the Class of 1970. Bill was selected by Admiral Rickover, founder of the modern Navy Nuclear Submarine Program, and served on the USS Alexander Hamilton. Following 8 years of active duty, he joined the U.S. Navy Reserves retiring as a Captain.
He worked at the Tennessee Valley Authority as a project manager for their many nuclear power plants. During that time, he earned an MBA from Florida Institute of Technology and worked in several nuclear related employments. He stepped into the consulting realm after earning a PhD in Project Controls from Georgia State University. Bill was an innovative thinker and developed several cutting-edge applications and approaches to business optimization and project management thereby winning industry respect for project risk managements of complicated energy projects. In 2014, he was selected to join the Multinational Iter Nuclear Fusion Reactor Prototype Construction in southern France. His diligent and detailed work revamped the entire project schedule toward a risk-based approach, which realigned a failing project schedule into a realistic, cost-effective project.
A true Renaissance man, he sought wisdom from learning and experiences with a restless mind. As a skilled blue water sailor, he would take his sons on weeks long sailing adventures. He was never more at peace than when he was on the water. His skills were endless: construction, electrical, plumbing, woodworking, architectural design, and classic automobiles to name a few. He was an avid reader, leaving a large library of classic and rare books. He and his wife loved traveling and discovering new countries and cities. He ran his first marathon in Athens, Greece and continued his running to complete 8 more marathons and a handful of half marathons, always with his wife, Nadine.
After discovering a lung tumor in 2015, Bill endured three surgeries, five chemotherapies, and participated in three clinical trials. He never stopped fighting his cancer and earned the respect of his doctors, nurses, friends, and family.
Bill leaves behind his beloved wife, Nadine; two wonderful sons, Redding (Lauren) of Denver, Colorado, and Russell (Sheena) of St. Augustine Beach, Florida; stepdaughter, Jamie (John) of Kennesaw, Georgia; two sisters, Virginia (Jim) of Lamont, Florida and Elizabeth (Leon) of Mena, Arkansas; one brother, Mark (Yubeiri) of Santa Rosa Beach, Florida; niece, Mabel and nephew, Henry, both of Santa Rosa Beach, Florida; four grandchildren, Mabel and Redding of St. Augustine Beach, Florida, and Katherine and Jack of Kennesaw, Georgia.
Due to COVID, a family only funeral will be held January 8, 2022, at St. Agatha's Episcopal Church, 144 Circle Drive, DeFuniak Springs, Florida 32435. The family asks in lieu of flowers, donations be made to the church and/or MD Anderson Cancer Sarcoma Center, Houston, Texas. A tentative date of March 19, 2022 is set for the interment at Gulf Cemetery, South County Highway 393, Santa Rosa Beach, Florida 32459, with military honors and flyover provided by the United States Navy.
Updated: January 01, 2022
Curator: Ed Moore