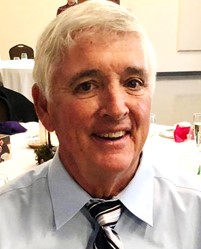 Beloved husband, father, grandfather, uncle, and friend, William "Bill" L. Hitchings, 73, passed away Tuesday, September 28, 2021 at Riverside Shore Memorial Hospital in Onancock, VA due to complications from Covid-19.
Bill was born in Texas on April 18, 1948 to the late Gene Owen and Jessie Hawley Hitchings. He grew up in the midwest playing sports, singing in the church, and spending time fishing with his parents as a child. He was a graduate of Arcadia High School in Phoenix, AZ in 1965, and the United States Naval Academy in Annapolis, MD in 1970. Following graduation, he was commissioned an Ensign, selected for the Naval Air Program and piloted the F-4 Phantom. Bill went on to complete numerous training and certification programs including the Navy Fighter Weapons School (TOPGUN), 1976.
After completing eight years of service in the United States Navy, Bill transitioned to a successful career in business. He became versed in the burgeoning construction industry of Tidewater, VA, and over a period of 35 years successfully expanded the Norfolk, VA based Baker Roofing Company office to multiple locations across the state of Virginia including Asheville, Harrisonburg, and Roanoke. Key projects of his career included Norfolk's Waterside, Nauticus and MacArthur Center Mall, The Virginia Beach Town Center, and numerous military, business, church, school and residential sites across the state of VA. He successfully retired as president and co-owner of Baker Roofing Company, VA in 2012.
In addition to his professional contributions, Bill dedicated much of his time to the growth of his church community and family. As a young father, Bill was active in various ministries and was instrumental in raising donations, as well as, construction planning for the sanctuary and fellowship hall of St. Mark Catholic Church in Virginia Beach. During this time, he volunteered in the local youth athletics community, coaching Neighborhood, Select and High School Soccer for 12 years. During the same period he supervised the building and transporting of multiple parade floats constructed in his driveway by the youth of our local Kempsville High School in Virginia Beach. Later in life, Bill enjoyed traveling with his beloved wife, singing in the church choir, and volunteering his time at St. John the Apostle Catholic Church on various committees and numerous ministries. Most notable, he was instrumental in the renovation of the St. John the Apostle Catholic Church Sanctuary in Virginia Beach.
Bill is survived by his loving wife of 51 years, Virginia (Ginger) of Cape Charles, VA; 3 daughters, Nikki (Sean) Koren (Hendersonville, TN), Stephanie (Keith) Stallings (Lake Mary, FL), and Sarah (Matthew) Dunleavy (Blacksburg, VA); and 7 grandchildren: Madeline, Sean Philip, Savannah, Kaitlyn, Sophia, Sierra and Christopher. He will also be missed by many nieces, nephews, cousins, and beloved life-long friends.
On Sunday, October 10, 2021, at H. D. Oliver Funeral Home, Laskin Road, Virginia Beach a Rosary Prayer will be held at 4:00 PM and Visitation from 4:30 - 6:00 PM.
A 10:00 AM Funeral Mass will be celebrated by Rev. Rob J Cole on Monday, October 11, 2021 at St. John the Apostle Catholic Church in Virginia Beach. All are invited.
Updated: October 03, 2021
Curator: Ed Moore