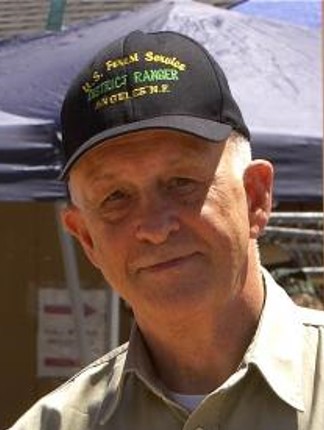 Wilburn Mack "Bob" Blount died suddenly and unexpectedly of pulmonary embolism at his home in Tehachapi, CA, on 15 February 2018. (About two months earlier he had undergone knee replacement surgery.)
Bob was born in Hampton Roads, VA on 21 October 1947, the son of Wilburn Mac Jr. and Reba Blount. He attended Hampton High School where he was a lineman on the football team and a pitcher on the baseball team. Navy Assistant Coach Jack Cloud recruited Bob to play football at the Naval Academy, and ultimately he was to receive an appointment through the qualified alternate pool.
Financial constraints motivated Bob's acceptance of the appointment. He also half joked that a guaranteed job after graduation was appealing. The challenge and camaraderie Bob experienced as a plebe in the 11th Company "Tigers" was to imbue him with confidence and a deep respect for, and desire to serve in the Naval Service.
On 2 December 1967, Bob and his roommate were walking about Philadelphia, enjoying the sights after the Army- Navy game (Navy won 19-14). Bob sighted and conversed with Jeanne Snyder, the woman who would become the love of his life. (That was the second momentous event for Bob that day.) He and Jeanne were to wed in Philadelphia on 6 June 1970, three days after graduation.
During his nine years in the Regular Navy Bob served as Fire Control Officer aboard USS Lawrence (DDG-4), and Weapons Officer aboard USS Thomas C. Hart (FF-1092). For his distinguished service Bob was spot promoted to Lieutenant and was awarded the Navy Achievement Medal and the Combat Action Ribbon (for Vietnam service). During that time he also earned a Master of Arts in Political Science from Duke University.
In 1979 Bob transferred to inactive duty in the Navy Reserve, from which he separated in 1994 as a Commander, while continuing in his new profession, real estate sales. He began as a residential sales agent. In due course he founded and managed several successful brokerage, mortgage and title insurance companies, capitalizing on the innovative use of technology and business processes for which he became known. He also became a director of the National Association of Realtors, the Virginia Association of Realtors, the Hampton Roads Association of Realtors, the Zillow Brokers Advisory Board, the largest Multiple Listing Service in the country, and other real estate industry related entities. For five years he was CEO of one of the largest residential real estate brokerages in the United States. During that time Bob also was a major supporter of the Children's Miracle Network.
Following the 2008 financial crisis Bob and Jeanne demonstrated their resilience and adaptability when he joined the U.S. Forest Service in California as a managing district ranger, responsible for one of the three districts comprising the Angeles National Forest. About a month after reporting for duty, Bob had to contend with the largest fire in the history of Los Angeles County, the Station Fire (caused by arson), which burned from 26 August to 16 October 2009, consuming 160,557 acres, destroying 89 residences and 129 other structures, and resulting in two fatalities. After that introduction to the Forest Service, Bob settled down to handling his normal responsibilities of caring for the health of the Forest, its recreational areas and trails, water and biological resources, minerals, fire management, disaster control, community and political relations.
As the result of a reorganization completed in 2017, the Angeles Forest went down from three to two districts. At the time of Bob's death, his reorganized district (LA Gateway) encompassed the entire northern side of the Forest, and was the largest such district in the country. It had full time staff of about 130 employees that swelled to roughly 200 with seasonal part-time employees.
One of those employees, Bob's assistant, said he had a grandfatherly way of dealing with his people, often with self deprecating humor. A common response to a morning greeting of "How are you?" was "Now that I've seen you, I feel much better." Bob also was a master at dealing amicably and compassionately with the public, especially excited property owners who, when facing potential calamity, needed to be calmed.
On 5 March 2018, an impromptu memorial was held in Bob's memory at the Santa Clara/Mojave Rivers Ranger District Office in Acton, CA. The people he had led there described him as having been patient, kind and wise, and always having time to listen, and knowing the right thing to do. In a similar vein, Bob's family, and close friends and classmates knew to the end that he was characterized by a calm demeanor, multifaceted sense of humor, and unswerving sense of devotion and loyalty for those who loved or relied upon him.
During their marriage Bob and Jeanne lived in Norfolk, Virginia Beach, Newport, RI, Durham, NC, and Tehachapi, CA. In addition to Jeanne, Bob is survived by daughters Linda, Shawn and Michelle, her children Christina, Amanda, Sarah, William and Michael, great granddaughter Anastasia (born twelve days after Bob's death), and brother John.
Updated: April 11, 2018
Curator: Ed Moore