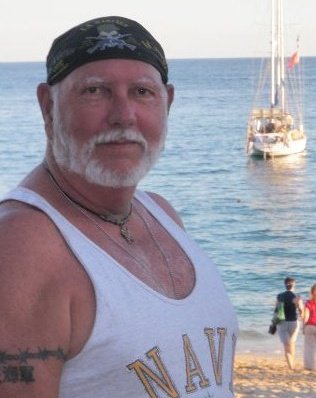 Bruce Michael Stevens was born on 10 December 1946 in Bay Shore, NY. He was the second and final child born to Carl and Mitzi Stevens. ‪Following graduation from high school in 1965, Bruce enlisted in the United States Marine Corps. After boot camp, Bruce was encouraged to become an officer and in 1966, he received an appointment to the United States Naval Academy (USNA) in Annapolis, MD. Bruce graduated in 1970 from the United States Naval Academy with a degree in Electrical Engineering and was commissioned as a Second Lieutenant in the Marine Corps. He completed the Basic School at Quantico, VA and was granted the occupational specialty 0302 infantry officer. Shortly after his graduation from the Naval Academy, he married Eileen Novak. Bruce and Eileen were married for 44 years, until her death on 24 April 2014.
After serving as an infantry officer with one Vietnam tour, Bruce transitioned to the "air wing" where he completed training as a Naval Flight Officer at Pensacola, FL. He achieved qualification as Bombardier/Navigator for the A-6E "Intruder" at MCAS Cherry Point and was assigned to fly with VMA(AW)121, the "Green Knights," as their maintenance officer. Following multiple deployments, the Green Knights were assigned to MCAS, El Toro, CA. While there, Bruce participated in multiple deployments to Japan, Korea, and the Philippines. He was instrumental in the squadron receiving the coveted Naval Aviation Safety award. He also earned an FAA Private Pilot certification during his time at El Toro. ‪In 1983, Bruce was transferred to USMC headquarters in Arlington, VA where he served as an Aviation Logistics Officer. Along the way, he acquired an MBA from Pepperdine University and became a fully qualified EMT with the Bowie, MD Fire Department. ‪Following his "Headquarters Tour", Bruce was reposted to MCAS El Toro. Continuing his educational pursuits, Bruce attended law school. In 1988, he was awarded his Doctorate in Jurisprudence (J.D.) and passed the challenging California Bar on his first attempt.
Following his retirement from the Marine Corps in 1988 and with his own law practice established, Bruce embarked on a new career as a Counselor at Law. At the same time, he served as a USNA "Blue and Gold" Officer and joined the Orange County, CA Sheriff Department as a volunteer police officer and detective. Many local lawbreakers were dismayed to learn that they had been arrested by a lawyer, as all his cases were "iron-clad". ‪Bruce took time from work to enjoy sailing his boat. This was one of his many great pleasures in life. He also ran marathons, maintained his qualification as a scuba diver, attended culinary school, traveled internationally with his wife Eileen and friends, kept in touch with friends world-wide on his short wave radio (KI6MBQ), and rode his Harley-Davidson motorcycle with the Brotherhood of USMC Riders motorcycle club. Eventually, Bruce moved up from the 27' "Tecumseh". He and his sailing partner purchased and outfitted a 50' sailboat named "Two Amigos" with the goal of sailing around the world. Starting in Southern CA, "Two Amigos" headed west into the Pacific Ocean in 2010. Bruce and his friend Clark stopped off in numerous countries and islands, including Fiji, Australia, Indonesia, Thailand, South Africa, Central America, and many of the Caribbean Islands.
In January 2014 while visiting his home in CA, Bruce sustained severe injuries in a road accident when the motorcycle he was riding was hit by a semi-trailer truck. As a result of the accident, Bruce suffered multiple bone fractures, which included a broken back. Nonetheless, he conquered the pain and soon re-boarded "Two Amigos". Unfortunately, his injuries caused permanent nerve damage to his legs and continuous pain. Bruce headed to Florida after the death of his wife, Eileen, in April of 2014 to visit his brother and sister-in-law and seek proper medical care for his untreated injuries. Bruce completed his global circumnavigation in late 2014 and settled in Florida with his new fiancée Jenny Devlin to plan his next sailing adventures and to be close to family and friends.
Bruce passed away at his home in Palm Coast, FL. in the early morning hours of 25 October 2017, following complications from a heart attack. Bruce was cremated and inurned at the USNA Columbarium, preceded by a memorial service that was attended by classmates, friends and relatives. ‪Bruce was preceded in death by his wife Eileen, and is survived by his brother Donald Stevens and sister-in-law Jean Stevens of Palm Coast, FL; nephews Bruce "Booie" (Patti) Stevens of Tavernier, FL; Donald (Linda) Stevens of Patchogue, NY; Mark (Kathy) Stevens of Bailey, CO; and his fiancée Jenny Devlin of Fancy Gap, VA. Bruce is also survived by several great-nephews and great-nieces, and a great-great-nephew.
Bruce's military awards included: Naval Flight Officer Wings, Rifle Expert and Pistol Expert badges, National Defense Service Medal, Good Conduct Medal, Parachutist badge, Vietnam Service Medal with one star, Meritorious Unit Commendation with one star, Sea Service Deployment Ribbon with one star, Meritorious Service Medal, and numerous certificates of commendation.
Bruce Michael Stevens lived life to the fullest. He often said that he was going to slide across the threshold with his hair on fire and yelling out "what a heck of a ride"! Saint Peter will most certainly have his hands full with Bruce!
Updated: November 05, 2018
Curator: Ed Moore