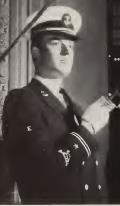 Charles Guy Paddock was born in Southern California on September 18, 1948 to CWO Robert E. Paddock and Celia (Fairbanks) Paddock. He received an appointment to the Naval Academy in 1966. Chuck arrived at the Academy with a California weather report personality – warm and pleasant. He loved music and probably would have been a 40's Big Band Leader, if he had been born 25 years earlier. Since he was not, he had to settle for being a leader of the Academy Drum and Bugle Corps.
Upon graduation, Chuck served as a junior officer on the USS Waddell (DDG-24). After leaving active duty, he remained in the Navy Reserves, retiring as a Commander. Though retired from the Reserves, he was called back to active duty and selected to serve at the Naval Academy to teach Ethics. Professionally, Chuck spent over 20 years at the Department of the Navy in Strategic Planning.
Chuck was married twice and was blessed with two beautiful children, Virginia L. Paddock and Guy R. Paddock, both of Arlington, VA. They brought him much joy. Their mother, Jane Heath Buxton Paddock, passed away at the age of 48 from cancer, at home in Arlington, VA. She was the managing editor in the book division of the National Geographic Society, when she passed away.
Throughout his life as a husband, father and while working, Chuck dedicated himself to obtaining his Doctorate in Management. He had completed his Doctorate course work, when his battle with cancer intensified. His battle was valiant, courageous, waged with dignity and the same quiet humility by which he lived his life. Never giving up hope, he talked about his new life going forward with Rita, to whom he was engaged at the time of his death. He also talked about how he could not wait until his daughter Virginia started driving and could attend more baseball games with his son Guy. After retiring due to his health, he cherished the time he had left with his children and Rita.
Chuck was determined to battle his cancer and attend the Class of 1970 30th Reunion the next year. Unfortunately, it was not to be. Chuck left us on October 16, 2001 in Great Falls, VA due to complications from his cancer. He was survived by his mother, Celia Fairbanks Paddock; his children Virginia and Guy; a sister Jennifer Paddock Hocutt; a brother Harold Roland Paddock; and his fiancé Rita. While Chuck may be physically gone, he will always remain in our hearts and thoughts.
Updated: November 09, 2018
Curator: Ed Moore