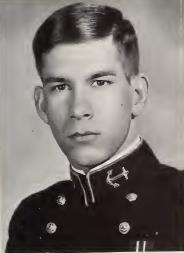 Today the world lost a great man. Corson Lee Allen: Father, Grandfather, Dad, Brother, Uncle, and Husband. I'd like to share a bit about my dad's professional achievements.
Objectively, he was easily the most intelligent person I've ever met. Born at Atlanta's own Emory Hospital and raised in Chamblee. He excelled at his studies and was appointed to the United States Naval Academy where he graduated 11th in his class of over 1300. During his time in Annapolis, he raced for the USNA Sail team. From there he went on to get a Master's in Mechanical Engineering from Georgia Tech, while also on the Yellow Jackets band playing trumpet.
Shortly after graduation, he began serving in the Navy on multiple attack submarines (SSBN 632 Von Steuben & SSN 646 Grayling) and after multiple tours, taught at the Navy's own Nuclear Power School. Unbeknownst to him, nominated for Rhodes Scholar after graduating Tech but wasn't made aware as he was busy serving his country.
After leaving the Navy, he went to work for military contractors, to name a few: Harris Corporation, Scientific Atlanta, and Viasat - and was pursued by world renowned weapons manufacturer Fabrique Nationale for his talent. Always working on the absolute forefront and cutting edge in military aerospace technology. From military drones to the AMRAAM missile (which is still used in allied air forces widely today), mil sat systems, a stealth helicopter (RAH-66), the YF-22 (currently the F-22a) and a first of its kind, carrier based stealth bomber (A-12 Avenger II), which was ultimately scrapped, but who's technological advances and design is used today in such designs as the RQ-170, X-47b, F-35, B-2, and B-21. The A-12 is considered the predecessor to the F-35, in role and function.
He was of such character as to always take his oaths of secrecy very seriously and when I was growing up, anytime I'd ask about a certain project or place he'd been I'd almost certainly be greeted with "Do you have a need to know?". While he took many secrets to the grave, I'm glad I got to know the little bit he could share, legally. While this is only one facet of the gem that is my father, it's one of my favorites knowing that some of his work lives on in vital military assets that ensure our national security today. My father; sailor, scholar, and warrior.
Updated: August 07, 2020
Curator: Ed Moore