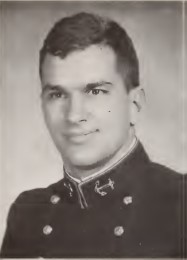 Steve left us on July 11, 2012 after a hard fought battle with cancer. At the end of his life he knew that the disease would rob him of his body, but his spirit remained steadfast, and until the hour finally came that he could speak no more, the words "I love you" were on his lips.
Steve was born in Rhode Island, the second child of the six born to Doc and Bette Cranney. As a navy brat, Steve lived everywhere: from Naples, Italy to Beeville, Texas to the California desert that is Edwards Air Force Base. As a child, Steve loved to draw and read and join his older brother Lee in harassing their younger siblings, Padge, Max, John, and Carrie. He also developed a love for astronomy and space flight that remained with him for his entire life. He often spoke of how he wanted to live long enough to see a manned flight to Mars.
After graduating from Desert High School, Steve became a reluctant plebe at the U.S. Naval Academy, originally wanting to study forestry at the University of Wyoming. Steve graduated from the USNA in 1970, married Mary Dee Johnson, and moved to Pensacola, Florida for flight school. Daughter Stephanie Marie was born to them in 1972. Steve subsequently became a helicopter pilot, or "rotorhead," and saw duty in Guantanamo and San Diego. He resigned his commission in 1979 to study music at the University of Wyoming in Laramie.
Although Steve was a gifted musician and composer, he realized that a musician's life was uncertain, and he was recommissioned in 1980, when he married Linda Dalton. Daughter Taylor Lauren was born to them in Fallon, Nevada in 1984. After Fallon, he was stationed in Bermuda and San Diego and retired as a Lt. Commander at Point Magu in 1991. During the 1980's, Steve saw his first Apple Computer while passing a store window, and it struck him that his love of musical composition could find expression in the programming language of computers. From that point, he was hooked. After leaving the service, Steve studied computer science at San Jose State University, obtained many certifications, and had several positions in information technology in his second career, and maintained his own home network.
In 1998, Steve met Deborah Nagano, a widow with two sons, Aaron and Max. Steve decided that he had one more marriage in him, and he and Debbie married in 2005. He was as devoted to Debbie and she was devoted to him. The last year and a half of their journey together was marred by cancer, but their strength, humor, optimism, and courage through these trials was evident to all who knew them. With every disappointment and setback, Steve rebounded, albeit, setting the bar ever lower. In the end, Steve just wanted to leave this life in his home surrounded by his loved ones, and by the grace of God, that wish was granted.
Steve lived by the Golden Rule. He could not abide cruelty or rudeness. One had to take care expressing a wish or desire, lest Steve spend his last dollar or exhaust his last bit of energy trying to fulfill that wish. When Debbie was asked about the effort in caring for Steve, she said that it was an honor not a duty, since she knew full well that he would have done it for her or his other loved ones.
One of Steve's lifelong quests was the search for the perfect pizza, remembered fondly from his youth in Naples. He never quite found it, but came close. So, to Steve: Next year in Naples.
Hail and Farewell, Sweet Man. Your life was a blessing to all who knew you. You will never be forgotten.
Updated: September 18, 2018
Curator: Ed Moore