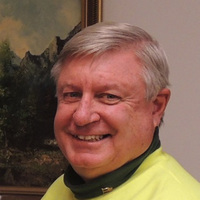 CDR Daniel 'Dan' Timothy Hogan, USN, (Ret), 71, of Plymouth, Minnesota succumbed to colon cancer October 9, 2019.
In a quiet Midwest suburb of St. Louis, Missouri, Mr. Kenneth Joseph and Mrs. Elizabeth Carroll Hogan began their family of seven by introducing Daniel Timothy Hogan to the world on November 30, 1947. Dan took his position as oldest child seriously and led the line of seven by setting an example worth following. He paved a path to the United States Naval Academy which was later followed by two younger brothers. His sister would marry another Naval Academy graduate while a third brother pursued a commission in the U S Navy through the University of Missouri ROTC. After graduation, Dan served in the United States Navy with unwavering commitment, dedication and distinction for 27 years.
Dan was a man of integrity and loyalty…always ready with a helping hand and an encouraging word. He loved nothing better than the hours spent on the golf course with his friends. (Beating his sons at golf would bring a special gleam to his eye… especially after telling them exactly how he was going to do it!) Dan was a hero to many… his unwavering determination and selflessness will continue to inspire us. He will forever hold a place in our hearts.
Survived by his devoted wife, Laura; sons, John Kenneth and James Richard (who added Amy, his much-loved daughter-in-law, and a namesake grandson Daniel "Mini-Dan" to the family); his "OD" (Only Daughter), Janelle Patrice (partner, Tyler Bennett). Also survived by brothers, Robert, Richard (wife, Marilyn), Gary (wife, Carole), Kevin (wife, Leslie aka "Inga"), and John; and his only sister (who surely benefitted from so many brothers), Mary Patrice Troiani aka "Patti" (husband, Marc), fifteen nieces and nephews, to include his God-daughter, Ashley and God-son, Joe.
Please consider memorializing Dan through donations to the Frauenshuh Cancer Center.
WE LOVE YOU AND MISS YOU… THANK YOU FOR BEING YOU!
Updated: December 15, 2019
Curator: Ed Moore