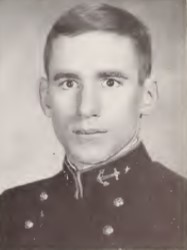 Mr. David Reid Burrows, age 63, of Dahlonega, GA, died May 17, 2011.
Mr. Burrows was the son of the late Reid H. Burrows and Ruth Moore Burrows.
Mr. Burrows had lived in Dahlonega for the past six years. He was a graduate of the United States Naval Academy, Annapolis, Maryland, Class of 1970. He had a Master's degree in Electrical Engineering from Michigan State University, East Lansing, Michigan. He was a member of St. Luke's Catholic Church in Dahlonega, GA. He volunteered at the Community Helping Place where he was twice named volunteer of the year.
He is survived by his wife, Joan Burrows; daughter, Rebecca; grandson, Dalton; sister and brother-in-law, Judith and Daniel Madden, Waunakee, Wisconsin.
Funeral Mass is scheduled for 9 AM Thursday May 19, 2011 at St. Luke's Catholic Church in Dahlonega, GA. Father Neal Dhabliwala will officiate.
Interment will be held at The United States Naval Academy in Annapolis, Maryland.
Updated: September 12, 2018
Curator: Ed Moore