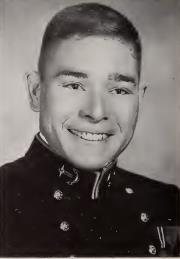 Edward John Robeson, IV followed in his father's footsteps (USNA '45) to attend the Naval Academy and be commissioned a 2nd Lieutenant in the Marine Corps. Ed entered the Academy in 1966 from Greenwood, SC, after having previously completed one year of college. He was a grandson of the late E. J. Robeson Jr. of Newport News, CA, former congressman from the Virginia 1st District, and Ruth Robeson. At the Academy, Ed was a true southern gentleman and was an inspiration to all of those who believed in the Academy's mission. Although an injury curtailed his football career, Ed was still a tough opponent on the lacrosse field and in the squash courts. Ed was an overachiever, renowned for his steadfastness and strong religious beliefs. He truly believed in the slogan "Winners never quit, quitters never win."
Following graduation in June 1970, Ed headed to The Basic School in Quantico, VA as a freshly minted 2nd LT. Ed finished second in his TBS class and then headed for a combat tour in Viet Nam as a rifle platoon commander. One year later, he went to the 9th Marines in Okinawa as a mortar platoon commander. Ed then volunteered for Force Reconnaissance in Camp Lejeune where he flourished in Special Warfare. Following a tour with the 3rd Battalion, 2nd Marines, he proceeded to Amphibious Warfare School, where he graduated #1. Ed then went to the Royal Marines in Scotland where he became a master in arctic/mountain warfare. After his tour with the 45th Commando, Ed became Operations Officer and senior Marine instructor at the Mountain Warfare Training Center, CA. He then graduated from Command and Staff School with honors and was assigned as the GOMO at HQMC and then to J-5 Joint Staff (Africa/Middle East desk officer), where he played a key role in events leading up to desert Shield/desert Storm. Ed was given command of the 3rd Battalion, 2nd Marines (his dream assignment) and culminated his service as the Operations Officer for the 2nd Marine Division, where he was involved in combat assignments to Panama.
Ed retired as a Lieutenant Colonel in 1990 and decided to become a gentleman farmer in Clyde, NC. Unfortunately, Ed was tragically killed a few months later in a farm accident. Ed was survived by his beloved wife, Mary; a daughter, Katherine Austin; sons, Edward Huiet and Thomas Ferguson (now deceased); a brother, Martin, MajGen, USMC (Ret.); his father, Edward J. Robeson III, of Rosman, N.C., formerly of Newport News, VA; his mother, Austin Robeson of Rosman, NC; and three aunts.
A memorial service was held Monday in Hazelwood Presbyterian Church in Hazelwood, NC. Internment was at Green Hill Cemetery in Waynesville, NC.
Updated: November 12, 2018
Curator: Ed Moore