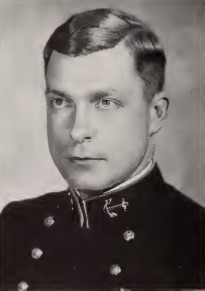 During his senior year in high school in his native Georgia, Francis Covington "Covey" Whilden had his sights set on West Point. He aspired to follow in his father's footsteps, who had served in the Army. When he was not accepted at West Point, Covey went to Clemson for a year. A year older and a year smarter, he applied to the Naval Academy, was accepted, and was off to four years on the Severn River.
He graduated from the Naval Academy in 1970 and retired, as a Lieutenant Commander after 20 years with the Surface Line Community. He served in destroyers homeported in Pearl Harbor, HI (USS Carpenter (DD-825)), Bremerton, WA and Bayonne, NJ (USS Fiske (DD-842)). His sea tours were interspersed with shore duty in Vallejo (Mare Island), CA, Fleet Training Center, Guantanamo Bay, Cuba and finally Charleston, SC. Three months after he retired from the Navy, Covey suffered a stroke. Shortly thereafter, he moved to his hometown of Colonels Island, GA, forty miles south of Savannah. With help from the VA, he battled back from his stroke and returned to work with the Army Corps of Engineers in Savannah, until his untimely death in an automobile accident on September 15, 1998 on I-95 in Bryan County, GA.
Covey was married to Edwina "Eddie" Whilden, of Colonels Island, for 28 years. They had two children. Their son, Aaron Whilden, was 25 years old when he was tragically killed in an automobile accident in December 1998. Their daughter Amanda Whilden became the Athletic Director and PE Teacher at a Middle School in Long County, GA. Covey is also survived by a brother, Randy Whilden of Charleston, SC; a sister, Margaret Sutherland of Milwaukee, WI; and several nieces and nephews. Graveside services were held Saturday morning at the Flemington Presbyterian Cemetery with the Reverend Gregory Loskoski officiating. Full Navy military honors were presented at the graveside.
Covey's friendship, warm smile and subtle wit will always be missed by his USNA '70 Classmates and family.
Updated: November 03, 2018
Curator: Ed Moore