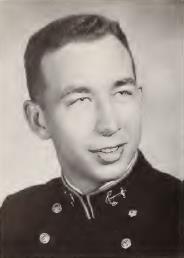 Francis Buffum Lord graduated from high school in 1964 and signed on that proverbial "dotted line" to enlist in the Navy. Not appreciating physical labor, he quickly applied for and devoured Machinist Mate school. This was followed by Nuclear Power School and Prototype training. At Prototype, Frank and some Rickover disciples had a falling-out and he applied for NAPS. There he found his intellect untested, but still graduated first in his class, academically. He was appointed to the Naval Academy in 1966.
At the Naval Academy Frank found the Aerospace Department, the Superintendent's List, and its liberty to his liking. The extra liberty provided more time for his greatest passion, sports cars. There not being a sports car club, Frank joined such groups as the French Club, the AIAA, the Plebe fencing team, and the sailing team. The Naval Academy provided the gateway to limitless adventure for Frank. It presented him an opportunity to reach for the stars, sail on and below the seas and to expand his mind. He viewed education as the key to setting and achieving his goals in life.
Upon graduation, Frank married the love of his life, Graça Rodrigues and was assigned to Flight School. His lifelong dream had been to fly. He kept himself grounded during this time by completing a Master's Degree in Aeronautical Systems. After flight training, Frank received a temporary duty assignment on the USS Nautilus (SSN-571) prior to attending Nuclear Power School in Maryland and Nuclear Training in New York. While having enjoyed the skies, Frank was summoned to sail the waves of the Pacific on the USS Long Beach (CGN-9) and the USS Truxtun (CGN-35). He then became an instructor at the Nuclear Power School in Florida. Having explored the ocean's surface on the west coast, Frank decided the time was right to explore its depths, serving in the USS Sunfish (SSN-649), USS James K. Polk (SSBN-645), USS Nathan Hale (SSBN-623) and USS John C. Calhoun (SSBN-630). After a brief assignment at Kings Bay, GA, Frank reported for a two your tour with the Joint Chief's Staff at the Pentagon.
Having flown, sailed and submerged with the Navy, Frank decided it was time to explore the civilian side of life and retired from active duty. He started Lord International, an import/export business, enjoying success. However, nuclear power again called to him. He first worked for NUS Halliburton/Brown & Root before becoming an independent consultant for On-Site Engineering. True to his passion for learning, Frank completed a Master's in Environmental Sciences while working in Colorado.
After a life full of adventure, exploration, learning and love, Frank received the call for his final deployment. Francis Buffum Lord, of Knoxville, TN passed away on Saturday, March 28, 1998, at the age of 52. He was a member of St. John Neumann Catholic Church. His survivors include his wife, Graça R. Lord; son, Francis B. Lord II; daughter, Christine L.R. Lord; parents, Dr. and Mrs. Francis A. Lord; brother, Frederick A. Lord; and sister, Terry G. Lord. Family and friends met Thursday April 2, at the Tennessee Veterans Cemetery, for a 2 p.m. graveside service with Father Ragan Schriver officiating. Military honors were provided by the Tennessee State Honor Guard. The family received friends at 7-9 p.m. Wednesday April 1, at the Rose Mortuary Mann Heritage Chapel.
Updated: November 11, 2018
Curator: Ed Moore