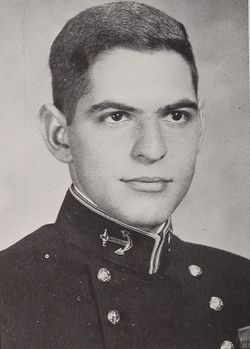 Gabriel Hernandez was born on June 28, 1948 as a citizen of Panama and received an appointment to the US Naval Academy in 1966. His parents resided in Panama City, Panama and while he was at the Academy Gabe spent much of his free time with his Uncle and Aunt's family in the Washington, DC area. Gabe graduated June 3, 1970 as a member of the 27th Company. Everyone anticipated that Gabe would return to his native Panama upon graduation, but he accepted an appointment in the US Naval Reserve and went to flight school in Pensacola, FL.
Gabe lost his life on March 15, 1973 when an S-2 Tracker aircraft crashed around 4:00 PM at the Naval Air Station, Glynco, GA, which took the lives of both aviators on board. The S-2 Tracker was on a routine training mission, when it apparently developed engine trouble on approach to the Gynco runway and burst into flames on impact south of the main runway. The pilot was LCDR Frederick Butler and LTjg Gabriel Hernandez was a crew member. At the time of his death, Gabe resided at St. Simons Island, GA.
Memorial Services were held at Chapel in the Pines in Glynco, GA. Gabe was survived by his parents, Mr. and Mrs. Gabriel Hernandez of Panama City, Panama; an Aunt; Antoinette Diemer of Bowie, MD; and a cousin Roberta Diemer of Roseburg, OR.
Updated: November 01, 2018
Curator: Ed Moore