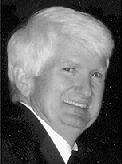 George Mathieson Sterling, Jr., 58, passed away on May 28, 2005. George (Duke), a Phoenix native, was born to the Honorable George and Ruby Sterling on March 24, 1947. He attended Central High School, followed by ASU where he affiliated with Phi Delta Theta and Blue Key. He then attended ASU College of Law where he was a founding member of Phi Delta Phi legal fraternity.
George practiced law for 32 years. He loved the law and truly enjoyed being a solo practitioner. He was a certified criminal specialist, and for the past few years, also practiced in Gila County.
George is survived by his wife of 32 years, Anne, his son, Mathieson Sterling, daughter, Allison Sterling Henward (Tim) and sisters, Karen Sterling and the Honorable Janis Ann Sterling. A celebration of George's life will be held on Friday, June 3rd at 1:00 pm at the Historic First Church, 402 West Monroe.
In lieu of flowers, the family prefers donations to the Arizona Humane Society, the American Cancer Society or plant a tree in remembrance of him.
Updated: September 12, 2018
Curator: Ed Moore