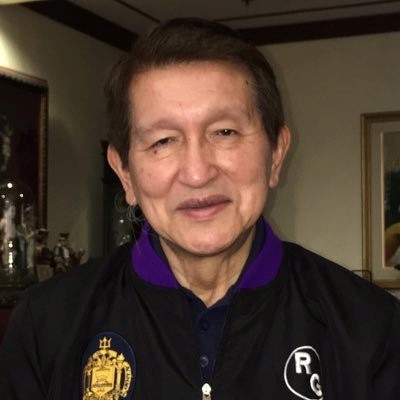 Roy Golez, a patriot and servant to the people of the Philippines, served six terms in the Philippine House of Representatives (all 18 years with perfect attendance) and was the National Security Adviser in the cabinet of Philippine President Arroyo. He was so popular with his constituents that he won each Congressional election by land slide votes, resulting in his being called "Landslide King of Paranaque." He was an outspoken advocate, defending the sovereign rights of the Philippines in the West Philippine Sea.
Roy's remarkable career included: Captain, Philippine Navy; Chairman of the Committees on National Defenses and Public Order and Security; Postmaster General of the Philippines; Governor of the Philippine Red Cross; President of the Philippine Amateur Boxing Association and President of the Philippines Boy Scouts. He was a recipient of the Philippine's Ten Outstanding Young Men (TOYM) award and received the Bayani Red Cross Gold Medal Award for heroism and bravery in the face of gunfire while leading a Red Cross team to rescue wounded soldiers during the bloody December 1989 coup attempt.
There was no stronger advocate of the goals and mission of USNA than Roy. He was very proud to have attended the Academy and filled his offices with memorabilia. He was rarely seen without an Academy logo shirt. Roy was extremely proud to have been a Brigade Boxing champion all four years. His artwork and cartoons appeared on the cover and in the "Log" magazine.
Roy's family has a proud Navy heritage. His father served in the Philippine Navy retiring as a Captain. His brother, Admiral Toto Golez, served as the Philippine equivalent of the US Navy Chief of Naval Operations. Roy's son, Jose Enrico Golez, is following his father's call to serve. He is Vice Mayor of Paranaque City, Philippines.
Roy was honored with the Funeral Ceremony of a dignitary of state at the Heritage Memorial Park and a large military caisson procession. The Acting Chief Justice of the Philippines, Antonio Carpio, spoke at the funeral, calling Roy a "True Patriot and was an indefatigable defender of the West Philippine Sea (WPS). He embraced lawfare as a peaceful means of asserting our sovereign rights in the WPS."
Roy is survived by his beloved wife Natty, two brothers, one sister, one daughter, one son and six grandchildren. Roy served his Country with unwavering commitment and devotion to the welfare of the people of the Philippines
Updated: June 25, 2018
Curator: Ed Moore