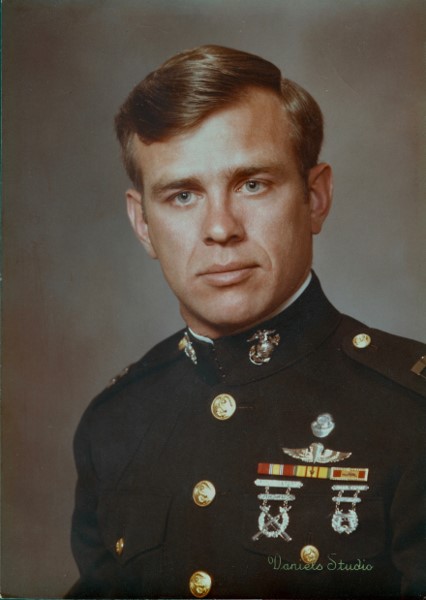 Henry Anthony Pyzdrowski, Jr. was appointed to the Naval Academy from Hopkins, MN in 1966. He arrived with visions of Navy Air in his head. This was soon to be replaced by US Marine green, which was a natural for him. He was the 16th Company Commander for the Fall and Spring sets and inspired those around him by his presence, bearing, and easy demeanor.
Hank went to the Marine Corps The Basic School after graduation, graduated first in his class for leadership, and was commissioned as a 2nd Lieutenant. Following TBS, he attended the United States Army Infantry School - Ranger Course & Airborne Course where he graduated with honors. He served a tour of duty in Vietnam (72 -73), trained with the Navy Seals underwater demolitions team, became a civilian pilot, served in the Philippines, Okinawa, and Japan and went on to lead young marines in the infantry.
His leadership was most evident while assigned as Company Commander 3CO. L. RT BN at the San Diego Marine Corps Recruiting Command. Under his direction and inspiration, his new recruits were molded into top notch marines. His recruits were always designated as the Color Company, a feat that few can claim. For his work he was recognized by his company Officers and Drill Instructors at the change of command ceremonies with a plaque that read… "The best form of welfare for the troops is excellent leadership." Semper Fi.
Hank then left San Diego to earn a Master's Degree at the Naval Post Graduate School in Operations Research. With Master's Degree in hand he reported to Washington, DC, for duty at the Marine Barracks, also known as 8th & I to work at the Pentagon. After eighteen years in the Marine Corps Hank achieved the rank of Major and then elected to trade in his marine green for a business suit and tie, such that he could apply his abilities as a government defense contractor operations consultant with Booz, Allen and Hamilton.
Hank was living in the Fairfax, VA area at the time of his passing on January 27, 1986. Funeral services were held in Hopkins, Minnesota. His family laid him to rest at Fort Snelling National Cemetery in Minneapolis, MN.
He would always liven up dinner when PJ Falten and Doc Breen were in the area. But, it is his calm, deep voice, heard for four years, telling each of us "we can make the grade", that will always remain with us. Semper Fi, Hank.
Updated: January 28, 2020
Curator: Ed Moore