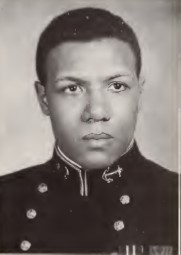 Henry Milton "Hank" Shaw Jr., passed away from this life into the hands of the Father on Friday, July 6, 2012.
Celebrating his life and mourning their loss are his son, Alexzander Chayce Shaw (San Antonio, TX); two brothers, Kevin D. Shaw, Sr. (Robin) of Louisville, and Lynn E. Shaw (Wanda) of New Britain, CT; six sisters, Patricia Shaw-Brooks, Kimberly Brooks (William); and Gayle Shaw-Young all of Richmond, VA, Jackie Gibson (Larry) of Chattanooga, TN, Cathy Lottie (Cornelius) of South Bend, IN, and Vickie Whitaker of Louisville; seven nieces, eight nephews; two great-nieces, four great-nephews; one uncle; six aunts; a host of cousins; close family friend, John Mosby (Jo) of Denver, CO; Hank's fellow comrades and dedicated friends from the United States Naval Academy; and a number of devoted friends.
Hank was the first born of nine children to the late Henry M. and Edna L. Shaw, and grew up in South Bend, IN. A scholar and athlete, Hank was inducted into the National Honor Society at John Adams High School, was the vice president of the 1966 graduating class and a member of the John Adams 1966 state wrestling championship team.
Hank was one of the first African Americans from Indiana to be appointed to the United States Naval Academy in Annapolis, MD in 1966. After graduating in 1971, Hank became a naval aviator and flew E-2C aircraft for many years.
Hank's career in the automotive industry began at Ford Motor Company in Detroit, MI as an engineer and continued there in a variety of positions. In 1983, Hank moved to Louisville, and was the Ford Heavy Truck District Sales Manager. He then purchased Knox Ford in Muldraugh, KY. Hank joined Heritage Ford as a Fleet Manager from 1998 until his retirement on June 30, 2012.
Hank was loved, cherished, and respected by all for his kind heart and special way of extending grace, encouragement, and support to all who knew him. He also mentored many young men and women who continue to love and honor him.
Arrangements have been entrusted to A.D. Porter & Sons Funeral Home, 1300 W. Chestnut St., Louisville. Celebration of life will be held at Community Baptist Church, 4909 E. Indian Trail, Louisville, on Saturday, July 14, 2012 with viewing from 11 a.m.-1 p.m. and service immediately following.
The vibrant memory of Hank and our love and appreciation for him will remain with all of us whose lives he has so powerfully and profoundly touched. Hank's family would like to extend a sincere thank you to all the staff of Baptist Hospital East, the CBC group, Helping Hands, and Hosparus for their kind and compassionate care during his illness.
Updated: September 18, 2018
Curator: Ed Moore