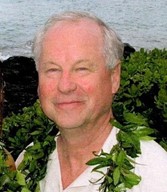 Harley Leroy Rhodes, 75 of Waikoloa passed away on March 11, 2022. He was born on December 28, 1946 in Minot, North Dakota. Harley served our Country in the Coast Guard and Navy and worked as a military and commercial pilot.
Survivors include spouse Keala of Waikoloa; sons Michael (Michelle) Rhodes of Chalfont, Pennsylvania; Eric Rhodes of Thorne Bay, Alaska; brothers Steve Rhodes of Mandan, North Dakota; Kelly Patrick Rhodes of Mandan, North Dakota; Conrad (Nancy) Rhodes of Brighton, Colorado; sister Charlene (Sam) Daniel of Byrdstown, Tennessee; and two granddaughters.
Private Services will be held.
Online condolences may be posted on www.ballardfamilymortuaries.com. Services provided by Ballard Family Mortuary-Kona.
To send flowers to the family or plant a tree in memory of Harley Leroy Rhodes, please visit our Heartfelt Sympathies Store.
Updated: March 17, 2022
Curator: Ed Moore