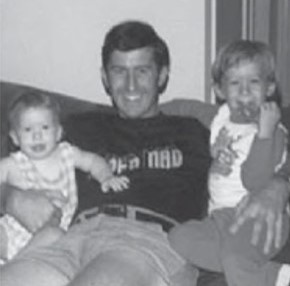 Melvin Hugh Brown arrived at Annapolis fresh from the hills of Roanoke, VA with a will to win and a desire to excel in all that he did. Despite his somewhat dubious choice of a math minor, Huey always did well in the never ending battle with the academic world. Although he never made the Big Blue, Hugh managed to play for three consecutive years on the Brigade Champions in batt football. In addition to football, the company basketball and fast-pitch teams were never without the winning presence of Brownie. He selected Navy Air for his naval career path.
Hugh graduated from the Naval Academy with the Class of 1970 and in 1972 he was designated a naval aviator. He later received his Master of Science degree from the University of West Florida. He reported to VF-126 at NAS Miramar as an instrument flight instructor in the TA-4J aircraft, then was ordered to VF-121 for training in the F-4J Phantom II. This duty was followed by deployment with Fighter Squadron 21 aboard RANGER. He also was a graduate of the fighter weapons school and was assigned to VX-4 at Point Mugu, California, in 1978, with additional duty at Nellis AFB.
Hugh was killed when the specially modified test aircraft he was flying crashed in the Nevada desert on 23 August 1979. He was a member of Air Test and Evaluation Squadron Four (VX-4) and assigned to Nellis AFB, Nevada, as part of an ongoing joint Defense Department test program at the time of the accident. He was part of the (no longer secret) 4477th Test and Evaluation Squadron (Red Eagles). The squadron was formed in 1979, during the Cold War. They were unique in that they were testing and evaluating Russian MIGs. Hugh was Bandit 12 of Squadron FOUR (VX-4) and was killed while dogfighting a Navy F-5 near the Tonopah Test Range.
Hugh is survived by his widow, Linda, whom he met while on an exchange tour at Eglin AFB in June 1970. They were engaged in April 1972 and married that September. She resides in Las Vegas NV with their two sons Brady (3 years) and Brian (11months). Hugh is also survived by his mother and father, Mr. and Mrs. Melvin Crocket Brown and three siblings.
Updated: September 18, 2018
Curator: Ed Moore