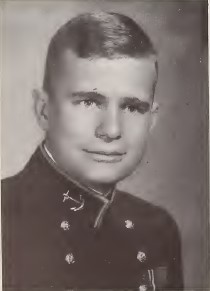 Commander Jack Emerson Kauffman, II, USN (Retired) 55 of Pace FL, passed away Thursday March 4, 2004. Jack was born July 14, 1948, in Portsmouth, VA.Jack followed his father to the Academy after graduating from high school in Newport News, VA. After graduation, Jack served as an H-46 helicopter pilot in five separate squadrons, and on the aircraft carriers USS Constellation (CV-64) and the USS Abraham Lincoln (CVN-72). He completed his career as the Executive Officer of Saufley Field in Pensacola, FL.
Jack retired after 24 years if active duty. He earned numerous commendations and medals from the US Navy. Jack was also a World Class decoy duck carver and avid outdoor sportsman. Once retired, Jack became an NJROTC instructor and went on to become a school teacher where he taught the fifth grade at R. J. Lipscomb Elementary School in Pensacola, FL. Jack was honored with the Teacher of the Year Award for the school year 1999/2000.
Survivors include his loving wife, Anne K. Kauffman of Pace, Fla.; two sons, Jack E. Kauffman III of Atlanta, Ga., and David S. Kauffman, C.P., of Pace, Fla.; three sisters, Janet Csir and her husband, Dr. Floyd Csir, of Erie, Pa., Sarah Hicks and her husband, Lester, of Newport News, and Shirley Kauffman of Newport News; and many loving nieces and nephews.
Updated: October 31, 2018
Curator: Ed Moore