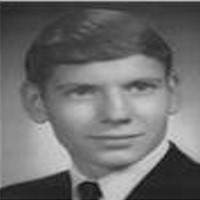 James Randolph "Randy" Heller, 62, of Brownstown, died at 5 p.m. Friday, Oct. 22, at his residence. He was born April 3, 1948, in Brownstown to the late James P. Heller and Mildred Inez Gossman Heller, who survives in Brownstown. He was a 1966 graduate of Brownstown Central High School, where he lettered in football and baseball. He was a member of the high school band and was a Brownstown Boy Scout.
Mr. Heller received an appointment to the U. S. Naval Academy and was sworn in as a midshipman on June 30, 1966. Culver Military Institute and Senator Birch Bayh nominated him to the academy. He served six years in the Naval Reserves.
He attended Milligan Bible College in Tennessee. He worked as a manager of Woolworth's in Desplaines, Ill. and a merchant manager for Handy Andy stores. He was a manager at Wal-Mart distribution center, Seymour, for 15 years. Mr. Heller was a member of Brownstown First Baptist Church and served as a deacon and Sunday school teacher. His interests included collecting arrowheads, hunting, fishing, dancing and NASCAR, especially Jeff Gordon.
Other survivors include his wife of 14 years, the former Susan Kay Fee; three children, Erin Heller, Jeff Heller and Jon Heller; a stepson, Ron (Michelle) Zike; a sister, Sarah J. Bell; five grandchildren, Deven, Deidra, David, Kyra and Logan; three step-grandchildren, Britt, Shaylee and Ashton; two step-great-grandchildren, Cole and Zoie, and several nieces, nephews, uncles and aunts.
He was preceded in death by a stepson, Timothy Zike. Funeral services will be conducted at 11 a.m. today, Tuesday, Oct. 26, at the Brownstown First Baptist Church with Scott Erwin officiating. Burial will be in Fairview Cemetery, Brownstown. Friends may call at the church today from 10 a.m. until time of the service. In lieu of flowers, memorial donations may be designated for the Brownstown First Baptist Church or to the family to help with expenses.
Updated: October 31, 2018
Curator: Ed Moore