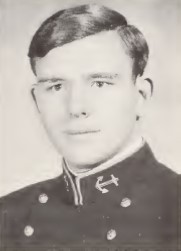 James A. Hundertmark of Denton, MD died peacefully Thursday, May 18, 2006, at his home with his devoted wife Ann by his side. He was 59.
Born March 2, 1947, in Fayetteville, N.C., he was the son of the late Leo M. and Mary F. Herndon Hundertmark. He grew up in Florida and graduated from Hialeah High School in 1965, where he played football as a right tackle. In September of that year he entered the Naval Academy Preparatory School. During that year, he played tuba in the band, was a member of the Public Relations Club, played varsity football and varsity lacrosse. On June 29, 1966 he was appointed as a midshipman to the U.S. Naval Academy in Annapolis. While at the Academy, he played on the football team and trained as a jet fighter pilot. In June 1969, after sustaining several knee injuries while playing football, he was honorably discharged from the Navy, no longer physically able to pursue his career as a Naval officer.
After having a liver transplant in May 1996, he became a devoted advocate of organ donation and was instrumental in obtaining the charter for the local Transplant Recipients International Organization, a support group for transplant recipients. During the next several years, he did volunteer work for the national TRIO organization in Washington, D.C. and became a community liaison for the Transport Resource Center of Maryland. In May 2004, he became a licensed realtor and worked briefly for Champion Realty before a series of illnesses prevented him from continuing.
He was a lifetime member of the Vietnam Veterans of America and Disabled American Veterans. He served for several years on the Talbot County Committee for Individuals with Disabilities.
Mr. Hundertmark is survived by his loving wife, the former Ann Hanlein, whom he married January 1994; two sons, Lee Hundertmark and his wife Candace of Omaha, Neb., and Joseph Hundertmark of Winston-Salem, N.C.; four grandchildren, Laura Ann and Bayli Nicole Hanlein of Batesville, Ark., Jeremy Lee and Cameron Ann Hundertmark of Omaha, Neb.; and a brother, Clyde Hundertmark of Silver Spring, Fla. In addition to his immediate family, he is survived by his "donor family," Angelo Mazzei and his children of Havre de Grace, with whom he formed a loving bond.
In addition to his parents, he was preceded in death by his beloved stepson, Joseph Michael Hanlein Jr.
A memorial service will be held at a later date. Interment will be private.
Memorial donations may be made to Caroline Hospice Foundation, Inc., PO Box 362, Denton, MD 21629.
Updated: September 13, 2018
Curator: Ed Moore