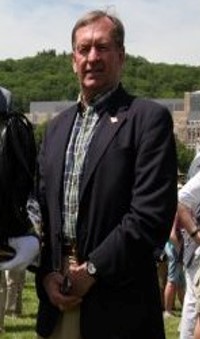 Jan Peter Fladeboe was born July 10,1948 and departed this life on November 19, 2016. He was the son of Trudy and Allen Fladeboe of Pierre, SD.
Jan was a 1966 graduate of Pierre High School and graduated from the U.S. Naval Academy Annapolis, Maryland in 1970. Jan served in the US Marine Corps and JAG Corps and retired as a LT. Colonel. He was employed by the U.S State Department following retirement from the Marine Corps until the time of his death.
He met his future wife Captain Michelle Brown USA, while he was a student at the Judge Advocate General's School, U.S. Army. Michelle left active duty after their marriage, but remained in the Army Reserve as a judge advocate for several years. She later resigned her Reserve commission when Jan was assigned to overseas duty at the Marine Corps Air Station in Iwakuni, Japan.
After Lieutenant Colonel Fladeboe retired from active duty and joined the U.S. State Department, Michelle and their three children joined him at State Department postings in Moscow and Vienna. After returning to American soil, the Fladeboes settled in Lake Monticello, Virginia. Michelle was later diagnosed with acute myeloid leukemia and passed away on February 2, 2016.
Jan was buried May 25th at Arlington National Cemetery with full military honors. He was preceded in death by his parents, brother Jeffrey and wife Michelle. He is survived by three children, Hans (West Point graduate), Andrew and Hayley and brother Jason.
Updated: September 14, 2018
Curator: Ed Moore