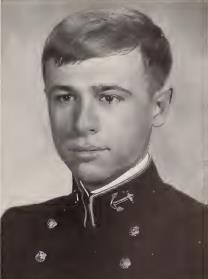 Jay Lawrence Jenkins grew up in Cornwall, New York, near West Point. During his early youth, his life was focused on fishing, trapping and the Boy Scouts. When his father was transferred to the Big Apple, Jay entered High School in New Jersey, where he worked after school as a janitor in a law office. He was appointed to the Naval Academy in 1966 from New Jersey.
At the Academy, Jay was affectionately known as the 9th Company surfer. He deftly used his surfboard prowess to stay one wave ahead of the academic board. When not on leave surfing, Jay maintained his reputation as the best disc jockey ever on WRNV, where he emulated the great radio personalities of the day, to include Scott Muni, Bruce Morrow, Dan Ingram, Murray the K, and Jean Sheperd. He viewed himself as a "hippy with a haircut" and even managed to attend Woodstock. Jay was a familiar sight, at his Academy desk plodding through text books, with a pipe stuck in his mouth and his mind obviously somewhere else.
After graduation, Jay spent a few years in the fleet and then resigned his commission and became a civilian again. He attended Southwestern University School of Law in Los Angeles in the late 1970's and also became a "neo-beat" poet who published and gave readings in libraries and bookstores. Between semesters, Jay worked as a cowboy and drove trucks for a chain of record stores know as Licorice Pizza. Jay passed the California Bar in 1978. After receiving his license to practice, Jay worked as an attorney at a music business law firm in Beverly Hills. Jay also travelled the country as the road manager of a Rock Band called "X" that was recorded by Ray Manzarek of the Doors. Jay followed this up by becoming involved with the formation, management, recording and promotion of Country Western bands.
Jay then moved on to become a trial lawyer living in Santa Monica with his wife. While practicing law, he continued to write short stories and songs. He also authored a novel titled "Canyons" about his years in the music business, but unfortunately it was never published.
Jay had fond memories of the friends he made at the Academy. His best friend was Rick Nyburg who remained a close friend in California. He was very thankful to John Nathman, who taught him how to operate his Triumph 650 motorcycle; to Kurt Dieterle and Pat Lawless, who taught him how to put a dimple in his tie; and to Charlie Young who helped him get through his nemesis course "Wires".
Jay unexpectedly passed away on December 13, 2010. He is survived by his wife.
Updated: November 15, 2018
Curator: Ed Moore