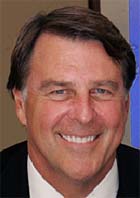 Jeff Krstich, family man, community leader and businessman, passed away suddenly January 20, 2008 of an apparent heart attack at age 60.
He had been a senior executive in the healthcare industry for over 30 years and was most currently the Chief Executive Officer of International Stem Cell Corporation, a California-based stem cell therapeutics company. Chairman of the Board, Kenneth C. Aldrich stated "Jeff shared ISCO's passion for pushing the bounds of science; believing that advancement in stem cell research would soon provide cures for many intractable human diseases and improve the quality of life."
A former Navy test pilot and veteran of Vietnam and Desert Storm, he earned a B.S. degree in engineering from the United States Naval Academy, and later attained his MBA. His passion as a coach was a positive influence on many young people spanning from Texas to his current residence in Carlsbad.
He was a devoted husband and father, a man of rich integrity and honor, and will be deeply missed by all who loved him. He is survived by his wife Gwyn, father Walter, two sisters Nancy and Lauri, children (Brian, Greg, Courtney, Jeffrey and Garrett), five grandchildren, and many loving relatives.
In lieu of flowers, it was Jeff's request that gifts be made to the Krstich Memorial fund set up for his youngest son Garrett Krstich. Please make checks payable to Garrett Krstich 7960 Sitio Fresca, Carlsbad, CA 92009. Donations may also be made at any Wells Fargo Bank.
Visitation and Vigil will be Friday Jan 25th from 4-8pm at El Camino Mortuary in Sorrento Valley. Funeral services will be held at St Johns Church in Encinitas on Saturday at 11am.
Updated: September 13, 2018
Curator: Ed Moore