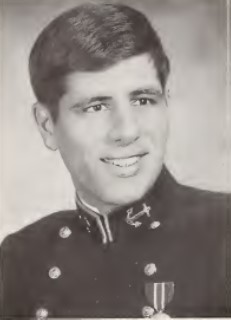 It is with a heavy heart that we say goodbye to Captain John Richard Seeley Jr. USN (retired), husband, father, naval officer, and always a gentleman, with a wry sense of humor and a great shot on the basketball court.
John passed away unexpectantly, after a brief health issue, on August 12, 2022, in Saint Augustine, Florida. He left much too soon his wife, Susan, two sons, Christopher and Jeffery, sister Jackie Balmer, as well as numerous academy classmates, many friends and former shipmates.
Captain Seeley began his distinguished naval career with the class of 1970, on a hot summer day in 1966, as he joined future classmates and friends in the Naval Academy Tecumseh Court for the swearing in ceremony. Even on that first day, he stood out from his classmates. He was 6 feet 6 inches tall, the maximum height in those days, and an All- American high school basketball player in his hometown of Ft Lauderdale, FL. As a member of the Thirsty Third company Mets, he quickly impressed everyone with his wit and focused determination to excel academically in the classroom and athletically on the basketball court. He endured the imposition of plebe year with a smile, while he excelled as a member of the Navy basketball team.
After graduation, John joined his first ship, the USS Noa (DD841), as the ASW division officer. This initial assignment significantly impacted his future naval and subsequent civilian career, which in turn advanced the ASW tactics and increased the ASW expertise of the surface warfare community in countless ways. This was followed by duty ashore as the Officer-in-Charge of a Naval Recruiting Class "A" Station. His initial at- sea tour of duty was the first of five additional sea tours, including Operations Department Head on USS Luce (DDG 38), Executive Officer on USS Paul (FF1080), and finally an exemplary tour as the Commanding Officer of USS Miller (FF1091) from '89 to '91. Between tours at sea, John attended the Naval Post Graduate School, Monterey, Ca, where he earned a Master of Science degree in Systems Technology. He also served at Fleet ASW Center, Norfolk, VA as the first Officer-in-Charge, Ocean Systems Technicians "A" School. Subsequently he served as the first Officer-in-Charge of the NAVSURFLANT Surface Ship ASW Analysis Center. After his command at sea, John returned ashore, to share his knowledge and ASW proficiency with the highly successful and innovative Surface Warfare Development Group, in Little Creek, Norfolk, VA (March '91-March '94). Captain Seeley retired from active duty on June 30, 1994, having completed a very successful twenty-four-year naval career, which significantly enhanced the Navy's surface ASW capabilities and tactics.
During his naval career, John was awarded the following medals and decorations, as evidence of his effective and dedicated service to his country: Surface Warfare Officer Pin, Meritorious Service Medal (3), Navy Commendation Medal, Navy Achievement Medal, Battle Efficiency Awards (2), Expeditionary Medal, National Defense Medal, Sea Service Deployment Ribbon with 3 stars, and the Medal for Humane Action.
After John's retirement from the Navy, he worked as a contractor for several companies doing naval related work. From 2007 until his passing, he was the CNIC C41 Suite Manager for the Capstone Corporation, having been named the employee of the year in 2008, his second year with this company.
John continued his love of sports, playing golf wherever and whenever the opportunity presented itself and using his always sharp mathematical mind to enjoy games of cards with friends and family, which he typically won.
Donations in memory of John may be made to the United Services Organization (click to go to USO Site).
John will surely and sadly be missed by his wife, sons, sister, friends, classmates, and shipmates. He was one class act and always a friend to many. Thank you, John, for your lifetime of patriotism and service to your county.
Updated:15 January 2023
Curator: Ed Moore