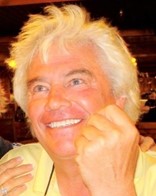 Kevin Thomas Fitzwater died unexpectedly of heart disease in Colorado Springs, Colorado on February 27, 2022, at the age of 74.
Kevin was born in Boise, Idaho on February 25, 1948 to Dale Tull Fitzwater and Beth Thomas Fitzwater. He was raised in Boise and attended Borah High School. He spoke with exuberance of his high school years: his friends, his time on the student council and in other clubs, his band The Tractors, and many joy-filled, mischievous antics. It was in high school he learned that "you can get in anywhere with a big cake and a full-size bass." Over the years, his children heard what they assumed were embellished tall tales; they have enjoyed the surprise of seeing many of his stories corroborated by his accomplices as he reminisced on Facebook.
As a young boy, Kevin spent time each summer at the family cabins in McCall, Idaho, and continued to do so throughout his life. He honored his mother's tradition of making McCall a second home and sanctuary for his family.
Kevin entered the U.S. Naval Academy with the class of 1970. He cherished his time as a midshipman and the friends he made at the Academy. He spoke often of his time there and the many good-spirited pranks in which he participated. In his own words, "I honor, revere and love those good men, brothers to this day, who shared the experience. If thoughts were words, I could say 10,000 kindly things about my Annapolis classmates." After two years in Annapolis, he decided he did not want a career in the military and transferred to Brigham Young University to continue his studies.
Kevin's first great love story resulted in his marriage to Rae Lynn Black on June 18, 1971. They moved to Chicago, where Kevin attended Loyola University School of Dentistry. There he made more lifelong friends, with whom he enjoyed annual golf trips to Rifle, Colorado.
In 1974, Dr. Fitzwater and Rae Lynn moved to Colorado Springs, where Kevin established his dental practice. He practiced dentistry for over 30 years. As a member of the Church of Jesus Christ of Latter-day Saints, he served alongside dear friends and neighbors in various capacities, including as a much-loved Sunday School teacher. Kevin and Rae Lynn welcomed six children before she passed away in 1988. Kevin's children fondly remember annual trips to Glenwood Springs, McCall and San Carlos, Mexico.
Kevin's last great love story resulted in his marriage to Linda White Cronin on November 15, 2003 after eight years of dating. They resided in Colorado Springs until his passing, and together have 22 grandchildren, all of whom, he would say, are above average.
Kevin will be remembered for his unique and sometimes irreverent sense of humor, which was the lens through which he viewed the world. He loved performing a good magic trick, and he loved performing a bad one even better. His humor was evident in his newsworthy Christmas light displays and invitations to events he hosted ("swimwear and livestock not appropriate"). He prided himself on being "sartorially resplendent," despite a proclivity to yellow, purple and Crocs. He worked diligently to convert his family and friends to the Flowbee Haircutting System, without success (with the notable exception of Schuyler).
"Fitz" was a skilled banjo player – whatever that means. He and his bluegrass band, Fruit of the Loom & The Waste Band, delighted crowds at the KOA campground in Woodland Park, church talent shows, and more.
Kevin had a flair for poetry, writing and grammar. He was a terrific wordsmith, and he passed his love of words – and their proper usage – to his children. He playfully penned poetry and was often working on a funny limerick or story. He read and recited poetry and encouraged his children to do the same.
In addition to his sense of humor, Kevin will be remembered for his keen intellect; his charm; his love of music, golf, and dogs; his artistic endeavors which began but didn't end with his Bob Ross phase; his reverence for his ancestors; and his devotion to his children and family. Those who knew him knew of his colorful world view. Many also experienced his deep compassion and kindness.
Kevin was preceded in death by his parents; his wife, Rae Lynn Black Fitzwater; and his son, Bradach Black Fitzwater. He is survived by his wife, Linda White Cronin Fitzwater; his brother, D. Scott Fitzwater; his children, Tiffany (Oliver) Pancheri, Aryn Fitzwater, Courtney (Michael) Wonnacott, Autumn (Barrett) Beardsley, and Schuyler Fitzwater; four stepchildren, Jerad Cronin, Serena (David) Grissom, Clinton Cronin, and Jesse (Mariana) Cronin; and 22 grandchildren.
Visitation, 10:00AM-11:00AM, Saturday, March 12, 2022, Myers Mortuary, 845 Washington Boulevard, Ogden, Utah 84404.
Memorial Service, immediately following visitation, Saturday, March 12, 2022 Jeremiah's Lodge and Garden 1329 West 12th Street, Ogden, Utah 84404.
Graveside Service, immediately following Memorial Service, Saturday, March 12, 2022 South Morgan Cemetery, 335 South State Street, Morgan, Utah 84050.
Updated: March 08, 2022
Curator: Ed Moore